Tesla releases Dog Mode and Sentry Mode updates
The over-the-air Tesla updates add a dog-friendly cabin environment setting and a security monitoring system to help prevent car theft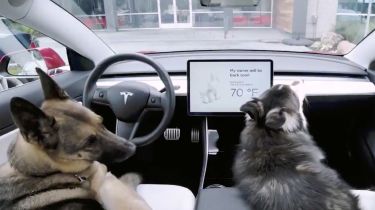 Tesla has added two new pieces of software to its range of vehicles, both of which are currently being rolled out globally via over-the-air updates. The updates add a dog-friendly cabin environment setting and a new security system tasked with preventing car theft.
Dog Mode was announced on Tesla's Twitter account. The new software adds the option to set the cabin to a climate comfortable for dogs at the touch of a button. Designed to be used when an owner leaves their pets in the car, the update adjusts the interior temperature and provides a visual warning via the huge touchscreen to warn passing animal lovers that the dog's wellbeing is not at risk.
The new Sentry Mode is a reactive update to recent federal statistics, estimating that a car was stolen in the United States roughly every 40 seconds in 2017. Sentry Mode will attempt to combat this by continuously monitoring the environment around the car when left unattended.
• How to choose the best dog ramp
When enabled, the system enters a 'standby' mode, like a home alarm system, scanning the immediate area for potential threats using the Tesla's external cameras. An alert is triggered by any minimal threat, such as someone leaning on the car, activating a warning message on the touchscreen to inform bystanders that the vehicle's cameras are recording.
A more serious threat, such as someone breaking a window, activates the Sentry Mode's 'Alarm' state, which blares the car's alarm, increases the brightness of the centre display and plays music from the car's stereo at maximum volume. The system again records the incident and sends a notification to the owner's smartphone, informing them of the attack.
Both software updates are currently being rolled out globally for all Tesla models built after 2017, starting in the States with the Model 3. Model S and Model X models are due to follow suit, with the updates reaching the UK by the end of the year.
What are you thoughts on Tesla's latest software updates? Let us know in the comments section below…