Tesla chooses Nevada for gigantic 'Gigafactory' battery plant
Tesla to partner with Panasonic to work on one of largest battery plants in the world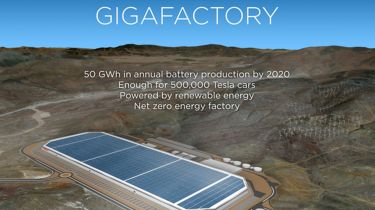 Tesla has announced that Carson City, Nevada will the chosen site for the one of the largest battery plants in the world. It's estimated the 'Gigafactory' will cost $5billion to set up, with plans to have the factory up and running by 2020.
Tesla is hoping to reduce the price of batteries to allow it to launch a £30,000 BMW 3 Series rival called the Model 3 in the next few years. Auto Express exclusively revealed the name of the Model 3 back in June
Tesla has ambitious plans for the 'Gigafactory' hoping to drive down the steep price of batteries by 30% by scaling up production of cells over the next few years. It is estimated that the 'Gigafactory' will produce more batteries than the entire world's production in 2013 when the combined capacity of the world's batteries produced 35m Gigawatt hours of power.
• Best electric cars on sale now
As an incentive to choose Nevada over the other potential locations Tesla looked at, the site will also receive $1.2billion in tax benefits from the state of Nevada until 2034.
The 'Gigafactory' represents a significant gamble for Tesla which set itself the ambitious target of building 500,000 cars by 2020. To get there, they will need to create their Model 3 a 3 Series-sized vehicle with an estimated range of 200 miles and price tag of around £30,000 within the next few years.
However, a partnership on the Gigafactory with Panasonic, which is keen to utilise the plant for battery production, should help Tesla reduce the long-term risk.
Tesla is also currently hard at work on the Model X, a crossover with a 250-mile range due to be unveiled in production form next autumn as well as the roll-out of the Supercharger network across Europe. The first two Supercharger stations have recently been launched in the UK; one in Birmingham and one in London.
Find out what happened when we tested the Tesla Supercharger superhighway here.