Tesla hints at UK base after German acquisition
Elon Musk says that Brexit hasn't put Tesla off future investment in the UK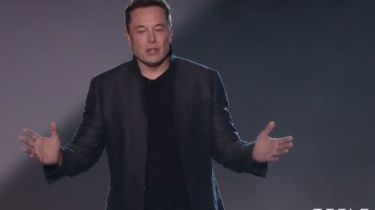 Tesla boss Elon Musk has praised Britain's Formula 1 industry while revealing that a future UK base for the electric car company could be on the cards.
The news came as Tesla announced its first major acquisition - the purchase of German automation firm Grohmann. Tesla's new German wing will be responsible for developing automated manufacturing technologies.
• Best electric cars to buy right now
Speaking to press after the purchase of Grohmann, Musk touched on the company's future plans for expansion into Europe, and what Britain's decision to Leave the European Union earlier this year could mean for potential UK investment.
Musk said Brexit will not have a "significant impact" on the company's long-term vision and that he has "a lot of respect for the British automotive engineering talent
"We are likely to establish a Tesla engineering group in Britain in the future", the Tesla boss added.
Musk didn't elaborate on the scale of any potential UK investments, but did add that the company is "exploring quite seriously" plans for a second Gigafactory location in Europe, responsible for the production of both batteries and production cars. At the moment, Gigafactory 1, the Nevada based facility is only responsible for producing battery packs and drive units.
Tesla creates new automation division
The news of potential UK investment came as Tesla announced the acquisition of German engineering firm Grohmann.
The new company – Tesla Automation Grohmann – will assist Tesla in meeting its goal of producing 500,000 cars a year by 2018 with more efficient assembly lines.
Grohmann specialises in automated assembly for numerous industries including cars. Tesla's automated manufacturing systems will be designed at the German facility, before being put to use at the main Fremont base in California – there are no plans to build cars at the German plant.
Do you think a Tesla base in the UK would be a good thing? Let us know in the comments...