First Tesla Enhanced Autopilot features due in 'about three weeks'
Tesla boss Elon Musk says buyers of new Teslas will get first Enhanced Autopilot features in December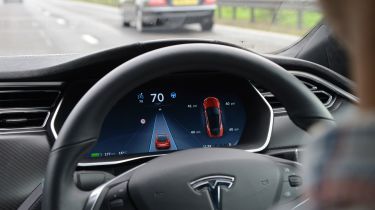 New Tesla owners can expect their cars to receive Enhanced Autopilot features at some point in December, company boss Elon Musk has revealed.
All new Teslas are now being made with the new hardware, but the features promised by the latest autonomous system are not yet active. It means customers buying a brand new Tesla right now don't actually get self-driving features on par with older cars.
• Everything you need to know about self-driving cars
In time, the new models will be capable of full self-driving, and Tesla plans to roll out autonomous features incrementally until full level 5 autonomy is achieved.
As ever, Tesla chief executive Elon Musk has taken to Twitter to announce the latest developments, revealing that the first Enhanced Autopilot abilities will be released in around three weeks as part of the Autopilot 8.1 update, with the rest drip-fed to customers over the coming months.
Enhanced Autopilot will introduce slip road to exit ramp autonomy on motorways and dual carriageways with automatic lane changing, while new Autosteer+ means that the car will be able to navigate tighter, more complex roads – the current system only allows self-driving on motorways. It'll also introduce Smart Summon, meaning your car can navigate more complex environments to arrive in front of you when you call it.
Full self-driving capability will be offered as an extra feature once the system is validated and legalised. Door-to-door autonomy is promised, as well as automatic charging and new 'Seek mode' self-parking – the car will drop you off right at your destination and leave to find a parking space. Using Smart Summon will bring the car tight back to you.
Tesla says it is not possible to know exactly when full self-driving features will become available, but Elon Musk has said that a Tesla fitted with Enhanced Autopilot will be capable of driving from one US coast to the other with no human intervention by the end of 2017.
Will Tesla have full self-driving cars on the roads this time next year? Let us know your thoughts in the comments...