New Tesla Model S and Model X 100D add extra range to line-up
New Tesla Model S 100D gets official range of 393 miles, while new cars undercut P100D variants by a significant amount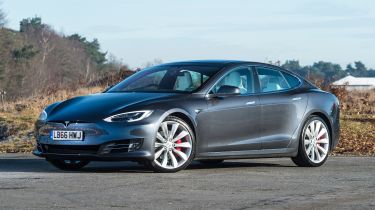 Tesla has quietly reshuffled its Model S and Model X ranges over the weekend, introducing new 100kWh battery pack cars to sit alongside flagship P100D models.
Dropping the 'P' performance prefix, the new 100D cars boast the same large battery packs as their high-performance siblings but use them to eke out additional range over record chasing 0-60mph times.
• Best electric cars on sale right now
In the Model S saloon, the new battery and powertrain combo results in an official New European Driving Cycle (NEDC) range of 393 miles on a single charge – the longest of any Tesla yet and the longest official range for a production EV in the world.
That's 47 miles more than the 346 range of the Model S 90D, and an extra 12 miles on the Model S P100D.
In real world conditions that headline 393 mile figure will be hard to achieve, but this should still be the best Tesla for all-out-range. Plus, despite the focus on eating up the miles it's certainly no slouch – 0-60mph is done in a claimed 4.2 seconds, with top speed clocked at 155mph.
The Model S 100D starts from £93,300 with first deliveries pegged for April - £3,000 more than the 90D but a huge £39,400 less than the £132,700 list price of the P100D. It seems likely that the 90D car will be dropped from the range in the near future.
• Tesla Ludicrous Plus mode slashes 0-60mph time
The Model X SUV gets the same treatment and with the 100D battery and drivetrain combo in place it manages up to 351 miles on a single charge. That's a 48-mile improvement on the outgoing 90D, while it matches it in terms of performance with a claimed 0-60mph of 4.8 seconds and a top speed of 155mph.
To 60mph it's nowhere near the 2.9-second dash Tesla claims for the Model X P100D, but it does get a useful 15-mile range advantage. Again, it comes in at £3,000 more than the soon to be dropped 90D with a price tag of £95,600, compared to the £132,500 cost of the Model X P100D.
Are Tesla's new 100D models a good idea, or is P100D power too tempting? Tell us your thoughts in the comments.