Tesla Model S 70D review
The entry-level Tesla Model S opens the unique Tesla experience up to buyers with £50k to spend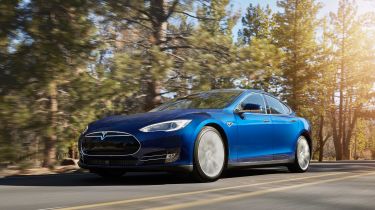 Driving any Tesla is an occasion and the new 70 models make the experience more affordable than ever. The 70D still impresses with its acceleration and its calm, relaxed nature, while quality and kit make it an easy car to live with. These latest Teslas are making electric car living more appealing than ever.
It might be the super-quick Tesla Model S P90D with its Ludicrous mode that's grabbing all the headlines, but at the same time a new, all-wheel drive 'entry-level' 70D model has also arrived – and we've driven it.
It always seems odd to use the phrase entry-level for a car that costs £55,000 (after the Government has chipped in with its £5k electric car incentive), especially when the 70D feels anything but entry-level.
• Best electric cars to buy now
It looks pretty much the same as any other Model S, while the levels of kit, fit and finish are the same as more expensive versions – which means very good.
The badging on the boot refers to the battery pack hidden under the floor – in this case a 70kWh battery. The D refers to the dual motor four-wheel drive system – one motor on the front axle and one on the back – and there's a rear-wheel drive-only version that'll save you £4,200.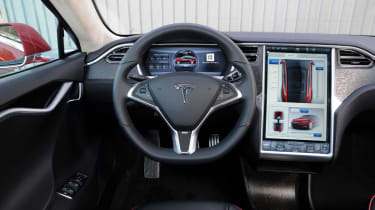 Tesla claims a range of 275 miles on a single charge (which will cost you nothing if you top up at one of Tesla's own Supercharger stations), while 0-60 takes 5.2 seconds. That might not be as face altering as the maximum attack models, but it'll certainly widen the eyes of most passengers, especially combined with the gentle whirr the Model S makes in the process - like a tape deck on fast forward.
It's difficult to draw comparisons with this all-electric super-saloon, but a BMW 535d M Sport costs a little bit less, is a little bit slower and a little less well equipped. Oh, and with a claimed average of 53mpg the BMW will, in theory, go around 800 miles before you need to fill it up, at which time it you'll have to cough up about £80. You'll have to charge the Tesla more frequently, but it'll probably cost you less than 10% of that for a similar mileage – or nothing if you use a Supercharger. And the Tesla wins hands down when it comes to other running costs like company car tax, due to its zero tail-pipe emissions.
The biggest joy of the Tesla driving experience is the instant arrival of torque from the moment you floor the throttle – either at standstill or at speed. The 70D gets a big 524Nm slug of torque, which keeps on coming up to a maximum speed of 140mph.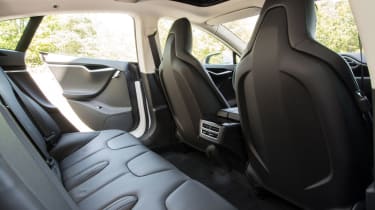 However, Tesla's aren't all about driving quickly – the 70D is comfortable, riding nicely on its 19-inch wheels over our short test route, and it's spacious with plenty of room for two or three at the back plus the option of two more seats in the boot (for an extra £2,500).
The weight of the batteries can be felt through corners and the steering's not BMW sharp, but sit back, relax and enjoy the straight-line bursts that you can't resist and you'll have few complaints.
And you'll not complain about style, quality or kit inside, either – the minimalist design is dominated by the famous 17-inch touchscreen that still shows others how it should be done. And it'll be continually updated free of charge when the car's in range of your home wifi network.
Standard equipment is good, with keyless operation, navigation, autonomous emergency braking, lane departure warning and DAB radio among the goodies. Tesla has been quick to catch on to the upgrade options, too, which includes Autopilot. Currently that comprises automatic cruise control, lane keep assistance and self-parking, but that, too, will be automatically upgraded to offer more features over wifi.