New Teslas now fitted with hardware for 'level 5' autonomy
Every new production Tesla will feature hardware ready for full self-driving capability, cross-country trip planned for next year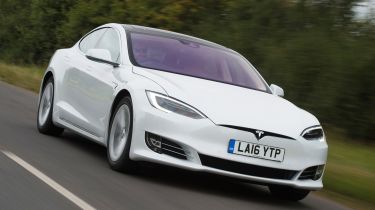 Tesla's controversial 'Autopilot' self-driving system has taken another leap forward, as the brand has announced that every new production model will come fitted with the hardware for "full self-driving capability".
Tesla CEO Elon Musk linked to a new blog post, claiming that the new hardware is able to operate "at a safety level substantially greater than that of a human driver". The system includes eight 360-degree cameras mounted around the car able to monitor up to 250 metres.
• Best electric cars to buy now
The California EV maker has released a video that shows a Model S driving itself through urban streets and then picking out its own parking spot:
12 upgraded ultrasonic sensors are able to detect "both hard and soft objects" at nearly twice the distance of the previous system fitted to the Model S, while enhanced processing on the forward facing camera makes it capable of maintaining visibility through heavy rain, thick fog and, Tesla claims, "even the car ahead".
A new onboard computer also features "more than 40 times the computing power" of the old system, providing a software 'net' that links vision, sonar and radar processing together. Examples of both the Model S and Model X fitted with this system are already leaving the production line, while the Model 3 will receive it at launch.
There is a catch, however: the system cannot operate fully yet as Tesla needs to "further calibrate the system using real-world driving". Teslas fitted with the new hardware will initially lack features such as adaptive cruise control and automatic emergency braking will the system learns the ropes - the features will be activated gradually via over-the-air updates.
What is Tesla AutoPilot? Find out here...