New entry-level Tesla Model X 60D costs from £64,100
Tesla announces new Model X 60D, providing a cheaper, lower-range version of the electric SUV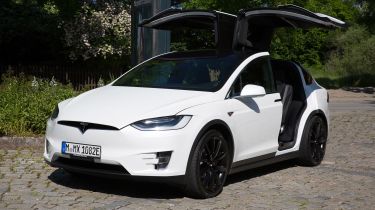 The Tesla Model X is now available from £64,100 with the addition of a new 60D model to the electric SUV's model range.
It joins the 75D (from £71,900) and the quicker 90D (from £82,400) and the top-of-the-range P90D which costs from £99,800. The 60D model also joins the 60 and 60D versions of the Tesla Model S saloon, which Telsa says have been a success for the brand.
In its press release, Tesla said: "Following on the success of Model S 60 and 60D, and in order to bring the benefits of Tesla ownership to even more people, today we're introducing Model X 60D... giving customers the flexibility to choose the Tesla model, price point and range that best fits their lifestyle. Our versatile product platform and efficient manufacturing processes make it possible to seamlessly extend these types of compelling offerings to customers."
The Model X 60D will go from 0-60mph in 6 seconds exactly and will hit 130mph flat-out. It has a reduced range over higher-priced models, at 220 miles. That's 83 miles fewer than the 90D version.
The UK configurator states a "Late 2016" release schedule for the Model X, and you can read more about the model range here.