What is a car insurance 'green card' and do you need one post-Brexit?
Now the UK has left the EU, motorists need a car insurance 'green card' to drive in Europe – here's how you can apply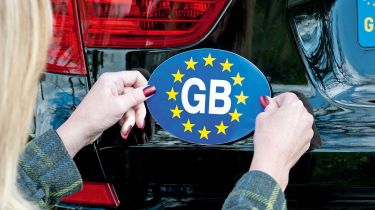 The UK left the EU on 31 January 2020, while the Brexit transition period ended on 31 December in the same year.
Under previous EU car insurance rules it was easy for Brits to drive in Europe. Although some countries required you to carry proof of insurance cover, it was fine for that to be your UK car insurance certificate.
With Brexit complete, however, UK residents driving on the continent now need to carry an insurance green card.
A motor insurance green card is a document produced by car insurers to prove that a driver has adequate insurance cover for driving abroad. Applying for one is a simple matter of contacting your insurer and asking but there are some important things you need to know. Below we've compiled a guide to the car insurance green card and how you can get one as quickly and easily as possible...
Apply for a green card
To apply for a green card, you simply need to telephone your insurer and ask for one. Make sure you tell your insurer exactly where you're going to be travelling to ensure the green card you receive is valid for all your destinations.
It used to be the case that green cards needed to be printed on green paper in order to be valid, but this is no longer the case. This means if your insurer sends your green card digitally, you're free to print it out on plain white paper.
Make sure your green card is valid for the country you're visiting
UK motorists visiting more than one EU country will have to ensure that their green card covers them for all the countries they plan to visit. For example, if you're driving through France and into Spain, you may need valid documentation for both countries. The European Economic Area (EEA) includes Iceland, Liechtenstein and Norway and you may require different documents to enter.
It's worth noting there's now a 'green card-free circulation zone' covering the EU and EEA. This means more often than not, you should only need one green card for your trip. It's best to check and be sure, though.
The green card must have a minimum of 15 days' cover left on it
In the same way that a passport has to have at least six months' left before its expiry date if you want to travel abroad with it, a green card must have a minimum of 15 days of cover left on it when you enter an EU country – even if you're just on a day trip.
A Green Card can be issued for less than 15 days in exceptional circumstances - for example, if the insurance policy is ending in less than 15 days. However, any Green Card issued for less than 15 days will be deemed valid for a full 15 days, and the Motor Insurers Bureau will guarantee the vehicle for the difference.
If you are planning a road trip to France, Italy or Spain then read our helpful guide here...