How to sell your car privately: advice on making a successful private car sale
If you want to sell a car quickly and for the best price in a private sale, our guide will help.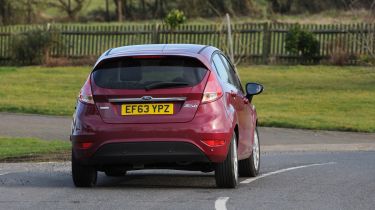 If it's time for your old wheels to find a new owner, the chances are you're looking for advice on how to sell a car quickly - and how to get the best price.
Our tips for selling a car privately take you through the process of getting a proper valuation, preparing your car to the best possible standard and making sure all the documents are in order for a smooth transaction. After all, there's a lot of competition out there, and the best way to sell a car fast is to make sure yours is priced attractively, looks its best and has all its paperwork in order.
Selling a car privately: the basics
Thanks to the Internet and online advertising, it's a lot easier to sell your car than it used to be. If you're feeling lazy you can grab a couple of pictures on your smartphone and upload them to a social media platform in just a few moments. In fact, trying to sell a car on Facebook marketplace isn't a bad idea if you need a quick sale and you're offering an obvious bargain. However, that approach is unlikely to work if you're trying to get the best price for a car you've cherished.
The best way to get a good price for your car is to make sure it stands out in the crowd. When you're selling privately that means taking the time to create the best possible advert, even though online classified platforms make it easy to post a quick ad and hope for the best.
Don't be tempted to cut corners, because buyers always respond to well worded and carefully presented ads. If you've taken care with your ad, buyers will assume you're the type of person who likes to do things properly, including looking after your car. A slapdash ad suggests you probably take a similar approach to car maintenance, which is absolutely the worst impression you want to give prospective buyers.
This means any 'car for sale' ad should have a description that includes key points of information, and good pictures of the parts of the car that people will be interested in.
Of course, we'd highly recommend getting your car cleaned and valeted before you take the pictures, as a presentable car will be more attractive to buyers and create a positive first impression. The same goes for all the documentation. If you have a wallet full of receipts detailing servicing and maintenance on a car, this will be attractive to buyers, too. And remember, all this advice can also be applied if you're going to trade your car in at a dealer or a company that claims to buy any car, as it will help you get a fair price for your motor.  
Our tips below give you more in-depth advice on how to sell a car privately, but they will also help you to avoid being scammed into parting with your car by online fraudsters. Unscrupulous vendors online can claim to be able to put you into contact with buyers for a fee, but invariably this isn't the case. Others may try and take your car by giving you a deposit and driving away in your motor. However, as long as you're aware of the risks and keep your wits about you, then these scams should be easy to spot and avoid.
Remember, we have our own tools to help your with a car sale. You can get an accurate idea of what your car is worth using our valuation tool or receive offers direct from dealers through our car selling service partnership with Motorway. 
Top tips for selling your car privately
Scroll down the page for everything you need to know when selling your car privately...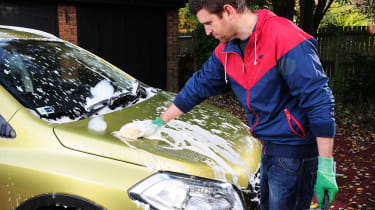 1. Ensure your car is ready to be sold
Most people who have bought a car privately will probably have nightmare stories of filthy and neglected cars that they have seen. The overriding thoughts of a buyer looking at a car that's been left dirty will be: 'if the owner hasn't taken the time to look after the interior of their car while they've owned it, what else have they neglected in terms of servicing and maintenance'? For some potential buyers, it could be enough to make them walk away without any further questions asked, as there are plenty of other vehicles on sale, and many will look like they have been maintained properly.
Partnership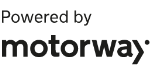 Need to sell your car?
Find your best offer from over 5,000+ dealers. It's that easy.
So the first step to selling your car, is to give it a thorough clean. This will sound incredibly obvious, but you only need to look at the classifieds yourself to see that many sellers still manage to fall at this first hurdle. Even if you just clear the car of rubbish, use a car shampoo, hoover the seats and carpets and clean the windows with glass cleaner to get the car looking tidy, it will help make a difference. Buying a car isn't like buying a house for renovation: most buyers won't want to look beneath the grime to see a car's potential, they want something that'll look good and be driveable as soon as they buy it.
You could even go the extra mile and fix any cosmetic faults. Crazed or cracked lights, broken mirrors and nasty parking scuffs can all be repaired relatively cheaply, either with DIY products or by using a mobile SMART repair company. The latter will be pricier, but the quality of the finished job should easily be recouped by a higher price offered by a potential buyer.
It's also worthwhile getting any faults repaired before you sell. If there are issues with warning lights on the dashboard, or you know that the oil or tyres haven't been changed in a while, then it could be a false economy leaving them for the next owner to fix - and they'll likely haggle lower to factor in any problems that need addressing. A great way of inspiring confidence in a car is to get an MoT carried out. This will highlight any problems that you can address before the car is sold, and because a car's MoT history can now be found online (including any advisory notes on potential future failures), it can show that a car has been brought up to scratch before being sold, giving a potential buyer confidence that no big bills will be appearing on the horizon.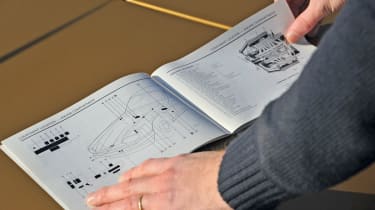 2. Have the correct documents ready
A great way of instilling confidence in the car you're selling is to have a wallet full of receipts and print-outs showing the car's history. This printed record can show every year of a car's life, and if you have a service book full of stamps for every service, as well as full MoT details (including any advisory notices), then it will be attractive to used car buyers.
The must-have documents include the car's V5C registration document (which will prove that you are the registered keeper and the car is yours to sell), MoT certificates (for cars over three-years old, which will show all passes and advisory notes on issues that may cause problems on later MoTs) and maintenance bills (annual service receipts and a service book with main dealer stamps will be a bonus here) are all must haves. Stuff like proof of insurance cover and bills for minor cosmetic repairs are maybe less important, but do show that a car has been looked after.
Having a comprehensively stamped service book is incredibly useful, so make sure you get the local garage to stamp it when you get it serviced. If you had forgotten to do this, don't panic, your car is not destined to go to the scrap heap, you can go back to the people who did the services and ask them to stamp it retrospectively. If you've had your car serviced at a main dealer, it's likely that they will have online records of the work, too, so if you have missing information, it's always worthwhile checking with your service outlet to see if they have the information.
Out of all these documents, the V5C is the most important one. This vital piece of paper is red on the cover and has V5C written on it in the top-right corner. However, don't let anyone take it away or photograph it before you have the cash for the car, because criminals can use the logbook to take out loans using your car's information, or even use it to clone your details to fit a stolen car.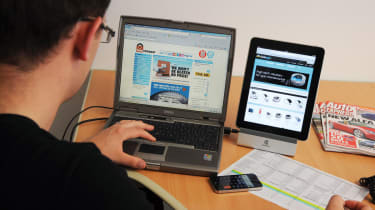 3. Work out a fair asking price
Depreciation is the driving factor when it comes to valuing your car to sell it. That means you need to focus on what someone will pay, rather than what you paid. If you're struggling to value your wheels, start by looking at similar cars that are advertised on sites such as AutoTrader, eBay and Gumtree.
After arriving at the price you think your car is worth, start looking at where you would like to advertise the vehicle. Again if you are trading in or even scrapping it, don't be afraid to hunt around, as offers from different dealers will vary depending on how desperate they are for stock. Our own valuation tool is another great way of getting a quick and accurate valuation on a car.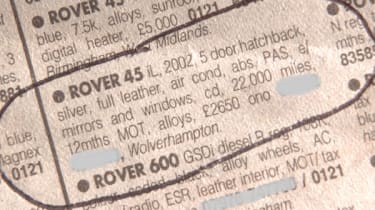 4. Advertise your car effectively
The best way to sell your car in this day and age is to take out an online advert on a site such as AutoTrader or eBay. These websites allow you to put a large number of photos and thorough description to entice buyers.
You can also go back to the Stone Age and put a physical ad in a publication. However, unless your car has a following with a dedicated publication e.g. a classic Mini, you are unlikely to get it seen by the right people.
There is also the incredibly free option of making a homemade 'for sale' sign and parking the car at the side of the road. While you may get lucky with this, it is probably best avoided if you are after a quick sale. What's more, it's one thing having a sign in your car while you're using it is one thing, but if it's parked at the side of the road for a prolonged period with a sign in the window, that's illegal, and could see your car being towed away. 
If you're describing a car for sale, then stick to what the reader wants to know. Avoid meaningless buzz phrases such as 'first to see will buy', 'future classic' and 'cheap to insure' - these are points that buyers will decide for themselves when looking at your advert.
It's important to have the basic information about your car in the ad. Most online sales sites can automatically add this info if you simply type in your car's registration. If there isn't this facility, then you need to include the make, model, body style, engine size and type (petrol/diesel/hybrid/electric) and gearbox type (auto/manual). You should also quote the mileage, as this can be an attraction to some buyers looking for low-mileage examples of the car they're looking to buy.
Other vital information to add includes the length of the car's MoT (if it has one), what service history is present, the car's specification in terms of desirable kit and accessories (DAB radio/audio connections, climate control, alloy wheels, tow bar, roof rack, etc) and how many owners the car has had. 
Road tax was a selling point of used cars, but now that the tax is refunded when you sell a car on, it can no longer be used as an incentive to attract buyers. Where road tax does have an importance is with annual running costs. Owners of electric vehicles pay zero road tax, so if you're selling an EV it's worth adding to your listing
Not all cars are perfect, and if there are issues with the car, then be honest. If there's a major problem with the car that can't be fixed before you sell, for example the engine does not work, put it in the advert. If it is a nearly new car, it's worth mentioning if there are any body defects, as people will expect it to be mint. However, older used cars are expected to have the odd mark here and there, so unless it is a really bad dent or scrape there is no need to include it in the advert.
On the subject of drawing people in, the other vital part of your advert will be the pictures. If you can, try and take pictures with a proper camera, rather than a camera phone - the images will be far better quality. Whichever method you choose, take the car somewhere with a bit of space that means you can take pictures of the whole of the exterior. And try and do this during the day when there's plenty of light.
We recommend taking a series of 'walkaround' pictures, taking in the front, rear, sides and three-quarter angles. Make sure the car fits in the frame, but isn't so small as to be hard to see in the picture. Then get photos of the interior, including the front and rear seats, the boot and under the bonnet, too - it might not show much if there's just plastic covers over everything, but if it's clean, it's a sign of a well maintained car. Then you can take some detail pictures, such as of the wheels if they're not damaged, and the clocks with the odometer showing, to give some proof of the car's mileage.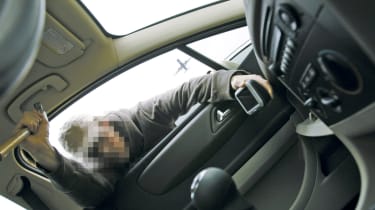 5. Don't get ripped off by scams or thieves
While it's nice to think that no one will get ripped off, some people out there will. To ensure it's not you, there are a few simple measures that you can use to protect yourself. Firstly, when a potential customer calls up wanting to buy or test drive the car, make sure you have their full name, phone number and, if possible, their address.
Also, before you let anyone get behind the wheel of your car, make sure they have their driving licence and proof of insurance. If they do not, you can demonstrate the car to them buy driving it yourself.
It may make you wonder if there is any trust left in the world, but never let a potential buyer test drive the car on their own, and if you do leave them to look over the car, don't leave the keys in it.
6. Make sure you get paid before handing over the car
Never hand over the car keys or documents until the money from the buyer is safely in your hands. Whether that means counting cash in an envelope, or your own bank confirming by telephone that funds from online transfers, personal or building society cheques, or bankers drafts have cleared into your account, the principle is the same.
Avoid overseas buyers at all costs. There are so many cases of fraud (so-called phishing scams) involving buyers claiming to want to ship your car overseas or conduct complicated money transfers, that it's not even worth entertaining the idea for a moment. Just say no, or don't bother replying to the emails.
7. Completing the sale
Once the money has been handed over, you'll need to draw up some simple paperwork to keep things clear and above board for both parties.
At the very least you'll need to provide a written receipt, and it makes sense to get the wording right. For maximum protection the AA recommends including the following statement on the receipt: "sold as seen, tried and approved without guarantee". In fact you can download a simple one page contract from the AA website which does the job perfectly. Just print off a couple of copies, get the buyer to add their dated signature next to yours on both of them, and keep one copy each.
You'll also need to complete the 'new keeper' section of the V5C logbook and sign the declaration, as will the buyer who should keep the small V5C/2 section of the form as proof of the change of ownership until their new V5 arrives.
8. Notify the DVLA that your car has been sold
With your old car speeding off home with its new owner, your only remaining task is to notify the DVLA of the change of ownership. You no longer need to post your V5 to Swansea as you can do it all online – check out our guide to the new V5C logbook rules.
Auto Express has partnered with Motorway to bring you a fast and easy way to sell your car. Other car selling options are available but we think you'll like the simple, fast service Motorway offers and our research suggests you should get a good price. Sell your car here...