Toyota Prius - £5k - £8k: Best cheap fuel efficient cars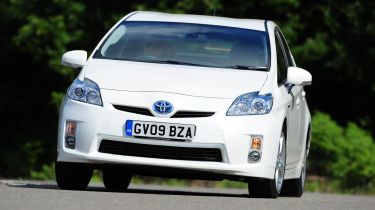 We found: Prius T-Spirit (59-reg/80k)Price new: £20,170 Now: £7,495Engine: 1.8-litre 4cyl petrol/electric 134bhp Economy: 70.6mpgCO2/tax: 92g/km/£0 Euro NCAP: 5 stars (2009)
Think of hybrid motoring, and the Toyota Prius is the obvious option. It was one of the first mainstream models to make petrol/electric motoring a realistic prospect – and now the current car's prices have dropped temptingly low.
• Toyota Prius (2009-2016) review
Flagship T-Spirit trim comes well equipped, too, with sat-nav and park assist included as standard, showing that eco-driving doesn't mean sacrificing your luxury kit. A 1.6-mile all-electric range helps keep emissions down, while the 1.8-litre engine emits just 92g/km of CO2, so even this used model is exempt from road tax.
Best cheap fuel efficient cars
• Fiat Panda• Skoda Fabia• Renault Twizy• Toyota Prius• VW Golf BlueMotion• Vauxhall Ampera• Suzuki SX4 S-Cross• Audi A6• Lexus RX• Porsche Panamera