Toyota Yaris Hybrid vs Peugeot 208
We hit the city streets to find out which supermini works best in the urban jungle: diesel or hybrid?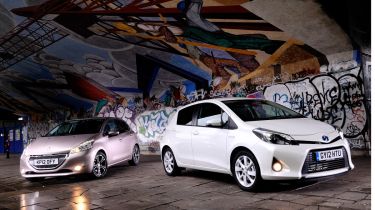 Toyota has been blazing the hybrid trail since the MkI Prius. Now, almost every new petrol/electric model from the brand sends emissions figures tumbling. The company's domination of the market is remarkable: three-quarters of UK hybrid sales in the past five years were by Toyota or its upmarket arm Lexus.
The brand has promised that eventually all its mainstream models will have a hybrid option. As part of that pledge, it's just launched its smallest ever petrol-electric vehicle: the new Yaris Hybrid. Claimed economy of 80.7mpg and emissions of 79g/km make it the most efficient supermini on sale, but can a £16,000 car work in this value-driven class?
To find out, we've put it up against a clean diesel version of our new Supermini of the Year, the Peugeot 208. In e-HDi spec, the lightweight Peugeot is also tax-exempt, while upmarket Allure trim promises big-car features.
The standard Yaris was off the pace when we tested it at the end of last year; can this revised hybrid version beat its conventionally powered rival?
Verdict
Toyota has made a significant effort to squeeze its Hybrid drive system into such a small car without compromising interior space. So the Yaris is an impressive achievement in engineering terms and it feels better suited to town use than its only direct rival: the Honda Jazz Hybrid.
The Yaris' headline efficiency figures are much lower than other superminis', but they don't offer any significant real-world savings. While we didn't get close to matching the official economy figures of either car on this test, the Yaris was slightly more frugal than the Peugeot. If you mainly drive in busy towns, that difference will become more significant.
But as soon as the road opens up, its lack of power and frenetic engine and CVT box combination begin to grate and you find it hard to keep pace with traffic.The added weight of the batteries hasn't improved the choppy low-speed ride of the standard Yaris and the lifeless steering completes the poor dynamics.
In contrast, the Peugeot is one of the quietest and most comfortable small cars money can buy. While it's not as sharp to drive as a Ford Fiesta, none of the 208's eco tweaks has compromised its performance. It's not as efficient as the Yaris, but it's almost as cheap to run and will be easier to live with day to day.
Winner: Peugeot 208 ★★★★Our Supermini of the Year claims another scalp from an important rival. This e-HDi version is smooth and very efficient, while keeping the standard car's bold styling and quality interior. At £15,845, Allure spec isn't cheap, but it matches the Toyota for equipment. There are plenty of tax-free superminis to choose from, but this diesel 208 is one of the very best.
2nd: Toyota Yaris Hybrid ★★Pushing the boundaries of hybrid technology is an investment that will pay off for Toyota in the future, yet the Yaris Hybrid is a difficult car to recommend. It has plenty of space and kit, but its total absence of personality, low-rent cabin and lacklustre handling will put off all but the biggest hybrid fans. For small cars, traditional petrol and diesel are still the best bet.