Toyota Yaris 1.3 VVT-i review
Toyota Yaris 1.3 VVT-i supermini scores on style, but it's let down on road
The Toyota Yaris is undoubtedly more desirable than before – it's prettier outside and better finished inside. However, thanks to the thrashiness of the 1.3-litre engine, uncomfortable driving position and plain chassis, it's still no more than an also-ran in this competitive class. Maybe the imminent diesel and 1.0-litre petrol versions will change this.
So many superminis are jostling for your attention these days that the Toyota Yaris needs to stand out. The Ford Fiesta is the driver's choice, the Citroen DS3 is the model for the fashion conscious, while Dacia and MG battle it out at the cheaper end of the market.
The facelifted Yaris aims to be funkier and better to drive, with a higher-quality feel. A tall order given that – with the exception of the unique Hybrid – the car is something of a forgotten contender.
The new look is effective – the wide grille and LED tail-lights turn heads in a way the old Yaris couldn't hope to. Plus, while the interior used to be let down by unpleasant materials and dowdy colours, our Yaris Sport gets bright red trim which makes it the most welcoming supermini cabin this side of a Fiat 500. There's also a new steering wheel and soft-touch plastics, but below the main dash panel the Yaris has plenty of hard plastics.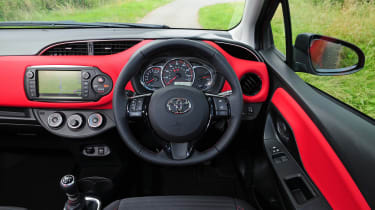 A refresh of the Toyota Touch 6.5-inch screen means the graphics are clearer, and the system is snappier in operation. But it's still unreadable on a sunny day (even with the glass roof covered), and you're still charged an extra £650 for built-in sat-nav.
Our Sport-spec test model came with £550 optional panoramic glass roof, which bathes the cabin in light. Attractive 16-inch wheels are included as standard, though, and they provide a pretty good ride.
The boxy shape gives Yaris plenty of rear headroom. Plus, the back seats split and fold as standard to expand the large 345-litre load bay.
Toyota says the new Yaris contains 1,000 new or altered parts, but sadly none is in the steering adjustment. Get the seat far enough away from the pedals to avoid kneeing the steering wheel as you change gear, and you'll find the wheel is too far away.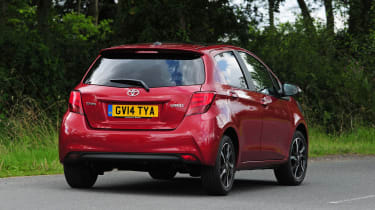 Still, the six-speed box is light and snaps easily into each ratio, while quick steering makes it feel agile around town.
However, once you get on to quicker roads, this Yaris isn't at its best. Despite yet more changes for 2014 to reduce vibration and noise, the 1.3-litre four-cylinder is thrashy, and drones towards its red line. The upcoming version, using the Aygo's 1.0 three-cylinder engine, should be the more willing powertrain.