Ford Zephyr Mk1: Buying guide and review (1950-1956)
A full buyer's guide for the Ford Zephyr Mk1 (1950-1956) including specs, common problems and model history...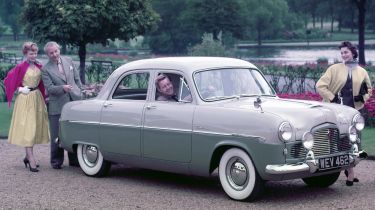 In 1950, Ford took the wraps off a range of cars that were nothing less than revolutionary. Billed as five-star cars on account of the quintet of areas in which they pushed the boundaries, the Mk1 Consul, Zephyr and Zodiac packed independent front suspension, oversquare overhead-valve engines and monocoque construction – all firsts for the Blue Oval.
As if that wasn't enough, there were also 12-volt electrics and hydraulic brakes all round, making these family cars more usable than anything that had ever come out of Dagenham before. Fast forward several decades and this whole range of cars is still stylish, practical and surprisingly usable, while also being some of the most affordable classics around. If you're looking for a catch, there isn't one, as there's great specialist support too.
But the usual caveat applies; if you can find a good one you're laughing. But really good cars don't often change hands on the open market, so be prepared to search for something really good. 
Which Mk1 Ford Zephyr to buy? 
While many Fifties saloons are frankly a bit dull, that's not an accusation you can throw at the Consul, Zephyr and Zodiac. Packed with character, they also offer a reasonable turn of speed and surprisingly good dynamics, yet they're eminently affordable. 
As with all such family cars though, low values mean good examples can be hard to find, and there are plenty of cars out there which have had more money spent on cosmetics than mechanicals. As a result you need to be especially vigilant for tarted-up cars, which are commonplace.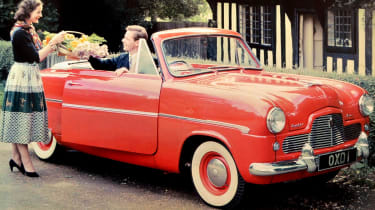 However, there are some cracking examples too, especially six-cylinder editions which tend to be more frequently cherished than their four-cylinder equivalents. Predictably, the posher the car, the more sought after it is. So six-cylinder cars are more sought after than the four-pot Consul while the convertible is far more collectible (and hence more valuable) than the four-door saloons.
Buyers tend to want Zodiacs over Zephyrs in the case of the saloon, but there was never a Zodiac convertible Mk1 offered, which is why the pick of the bunch overall is a drop-top Zephyr Six. 
Ford Zephyr Mk1 performance and specs 
Engine
2262cc, six-cylinder
Power
71 bhp @ 4200rpm
Torque
112lb ft @ 2000rpm
Top speed
84mph
0-60mph
20.4sec
Fuel consumption
23mpg
Gearbox
Three-speed manual
Dimensions and weight
Wheelbase
2642mm
Length
4366mm
Width
1626mm
Height
1511mm
Weight
1223kg
Ford Zephyr Mk1 common problems 
• Corrosion: thick steel panels have helped many of these cars last better than you'd think. You still need to check everywhere closely; focus on the inner wings, sills, the leading edge of the bonnet, and the bottom of each inner wing, around the chassis legs. 
• More corrosion: the outer wings can also rust badly, especially around the headlights and in the joint with the front valance. The whole of the underside needs careful inspection, especially the chassis legs, the steering box mounts and the jacking points. Also check all the seams. It pays to be suspicious of cheaper restorations jobs, and check for filler, disguising rusty body panels. 
• Powerplant: engines are the all relatively simple, and easy to maintain. The six-cylinder powerplants are the more desirable, and endure considerably better than the four-cylidner models, although most need a rebuild after around 100,000 miles. Check for excessive oil smoke, pointing towards worn piston rings, or at the very least valve seals. 
Partnership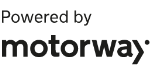 Need to sell your car?
Find your best offer from over 5,000+ dealers. It's that easy.
• Rocker shaft: although the engine might have quite a noisy top end, this isn't generally something to worry about. What needs to be looked at carefully is the rocker shaft. The seal for the oil feed pipe can perish, causing the shaft to to wear prematurely. Spares are very difficult to locate.
• Gearbox: the same three-speed manual gearbox is used on four and six-cylinder cars, with overdrive available on later cars. It's not a strong transmission, and the first sign of trouble will be the car skipping out second and third gears. 
• Differentials: differentials rarely give any trouble, unless allowed to run dry. Replacements are hard to find and there aren't many parts left for rebuilds. Half shafts can also be weak, especially on six-pot cars. Decent used bits are readily available however, and replacing a half shaft isn't tricky. 
• Steering: make sure the steering is light and precise, with no more than an inch and a half of play at the steering wheel. Stiff spots mean the box has been overtightened to adjust out the play – which may have damaged it beyond repair. Reconditioned steering boxes are available though.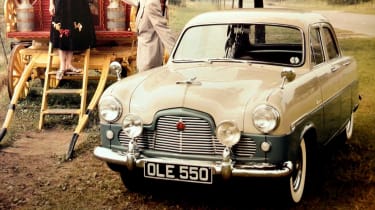 • Wheel package: if the steering is uniformly stiff, it's because the MacPherson strut top bearings have partially seized; a twanging noise as the wheel is turned between locks will confirm this. You can also lift the bonnet and see if the rubber cap is in place on top of the strut; if it's not there, water will have got in; replacement bearings aren't available. 
• Brakes: exactly the same braking system is fitted to all these Mk1 cars, and while they're just about up to the job on the Consul, six-cylinder cars could really do with stronger anchors. That's why some owners fit the front-disc set-up from the Mk2 Zephyr/Zodiac – but it's not a straightforward bolt-on job. 
• Interior: the Zodiac got leather seats as standard; it was optional on Consuls and Zephyrs. Used interiors do crop up, but constant design tweaks make it hard to source exactly the right one. Headlinings tend to stain and fitting a new one means removing the front and rear screens – it doesn't help that new headlinings aren't available. Check the dashboard for cracks caused by over exposure to the sun. 
Ford Zephyr Mk1 model history 
1950: The four-cylinder Consul and six-cylinder Zephyr Six are launched, in four-door saloon form. Optionally available on both are a heater/demister, leather trim and push-button radio. 
1951: A prototype Zephyr Six convertible is shown. 
1952: All cars get a revised dash, incorporating redesigned instrumentation. 
1953: The high-spec Zephyr Zodiac arrives, with two-tone paint, whitewall tyres, a plusher interior and a slightly hotter engine. At the same time, the Consul and Zephyr Six get interior revisions, restyled brightwork and extra standard equipment. The convertible also arrives; the Consul has a manual roof while the Zephyr Six gets a powered hood, but there's no drop-top Zephyr Zodiac.
1955: Borg Warner overdrive is now offered on six-cylinder cars. 
1956: The last Mk1 cars are made. 
Ford Zephyr Mk1 key clubs and websites 
Ford Zephyr Mk1 summary and prices 
Prices for the Mk1 Zephyr have been rising steadily for a while, partially because of the car's popularity in historic racing, as well as the Ford's charming styling and nostalgic feel for people of a certain age. Rarity also dictates that the best examples often have asking prices in excess of £15,000, while more rough and ready examples can be picked up from less than £10,000.
Thinking of buying a future classic? Then take a look at these potential future classics...