Royal Mail to trial new all-electric vans
Arrival, based in Oxfordshire, have begun a year long trial with Royal Mail using nine of their British built electric vehicles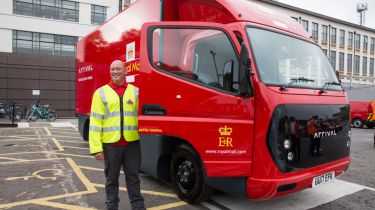 Following the purchase of 100 electric vans from Peugeot this July, Royal Mail has gone one further and begun trialing three different all-electric vans from Arrival, a company based in Oxfordshire.
The trail is due to last one year, and involves a total of nine vehicles split up into 3.5, 6, and 7.5 tonne variants. As the Royal Mail operates a fleet of some 49,000 vehicles the potential for further purchases is huge – assuming of course the vans deliver.
All the vehicles will be used at the central 'Mount Pleasant' depot in London, where the 100-mile range will be put to the test on a daily basis. Paul Gatti, Royal Mail fleet's managing director said, "We will be putting them through their paces over the next several months to see how they cope with the mail collection demands from our larger sites." This suggests the Royal Mail is already considering rolling out these vans to other sites.
The vans themselves are made out of ultra-modern lightweight composites, similar to the materials used on Formula E racers, which coincidently isn't where the similarities between the vans and motor racing end. Arrival are the same company responsible for the electronic components found in the Roborace Robocars – the autonomous electric racers that came into the limelight earlier this year. The Robocars pack 300kW (402bhp) and offer a top speed of over 198mph, which we don't know about you, but think would do wonders for the speed of postal deliveries.
In reality the performance will be closer to that of PSA's efforts, which are merely electric versions of their Partner vans. They offer 49kW (67hp), a payload of 552kg, and a similar range of 106-miles.
Whilst they may not boast quite the performance figures of their distant racing relatives, the electrical systems are all made in Arrival's new factory in Banbury, meaning they have been tailored to the application of hauling goods.
Their engineers have also cleverly designed the vans to be a modular design, meaning just one person can assemble an entire van in only four hours. Perhaps even more useful for managing a large fleet, Arrival claims that any part can be changed in just 15 minutes.
Offering decent range and lower emissions, the vans are a step in the right direction for finding efficient transport solutions for fleets such as Royal Mail's. The cherry on the top? They are reported to cost the same as an equivalent diesel van, making them all the more tempting for businesses.
Like them or loathe them, what do you think of the new postie vans?