Vauxhall Go Instore service to trial new interactive car buying scheme
Vauxhall's latest scheme 'Go Instore' offers customers online, real-time car-buying advice without visiting a dealer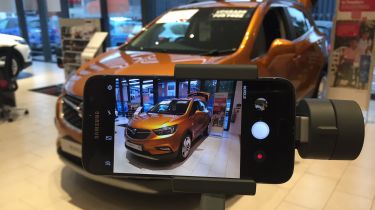 Vauxhall is trialling a new car buying service called Go Instore in one of its London dealerships, offering customers a live interactive showroom experience via online video conferencing. 
The Go Instore scheme will allow customers to connect remotely with their local dealership to ask questions about the Vauxhall range and receive real-time demonstrations from the convenience of their own home.
For added customer security the conference call offers two-way audio, but only one-way video. The customer's camera is never accessed, and their voice data is never stored, unless specifically requested by the customer during the call. 
Vauxhall says response to the Go Instore scheme has been positive, with the new interactive platform already producing an increase in the number appointments made by customers. Vauxhall states that it intends to roll out the service across its network should the scheme's popularity continue.
Traditionally, motorists make up to four visits to a dealership before finalising a deal. Now, that number has fallen to an average of two visits, with many customers doing the majority of their research on their smartphones rather than relying on the dealer network.
Now read our article on the decline of the traditional car dealership. Let us know your thoughts in the comments below…