Vauxhall's Ellesmere Port plant pauses production over Brexit woes
Vauxhall's Ellesmere Port facility has entered a period of downtime in response to the previously planned Brexit deadline of March 29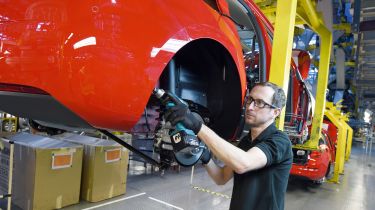 Vauxhall's Ellesmere Port production facility has been temporarily shut down in an attempt to minimise the impact of Brexit. The scheduled downtime was organised several months ago, with the expectation that Brexit would take effect on 29 March.
The firm's pre-emptive planning means Vauxhall is unable to restart production at the site in Cheshire, in spite of the UK's Brexit extension, as it has already granted holiday for its staff and hired contractors to carry out maintenance work during the downtime.
• Motor industry calls for 'frictionless' Brexit
Vauxhall's temporary stoppage marks the latest instance of financial and manufacturing disruption caused by uncertainty over Brexit. The firm's inactive facility joins BMW, Jaguar Land Rover and Honda's UK plants, all of which also gambled on a punctual Brexit.
The impact of these plant stoppages could have detrimental effects to all four manufacturers' finances. The terms of Brexit are still yet to be finalised and the UK continues to participate in the EU trade union; so if the factories had remained open, they would be able to build vehicles for export that would take advantage of a tariff-free market.
Roughly 1,100 Vauxhall employees have been forced to take leave from their posts at Ellesmere Port, and the future of the factory remains uncertain, after Carlos Tavares, Chief Executive of PSA (Vauxhall's owners) said that the site needs to improve its productivity to survive. Vauxhall has also trimmed more than 900 employees from the facility's workforce over the last two years, due to falling demand for the Astra.
Under completely coincidental circumstances, Vauxhall's Luton production site has also entered a period of scheduled downtime. The firm is currently re-tooling the factory for the production of the new Vivaro van, as part of a £100 million investment into the facility, and it will reopen on April 23.
How do you think the UK car industry will deal with Brexit? Let us know in the comments section below…