Vauxhall boss reveals thinking behind return of the Vauxhall Viva
Vauxhall Chairman Tim Tozer explains the motives behind plan for a new Vauxhall Viva city car
Vauxhall has revealed its thinking behind the return of the Viva badge on its forthcoming city car.
In a world exclusive back in May, Auto Express revealed that the brand planned to revive the famous seventies name on a new model that will be based on the Chevrolet Spark and is likely to have a starting price below £7,000. Our exclusive images show how the new Vauxhall Viva could look.
While stopping just short of officially confirming the news, Chairman and managing director of Vauxhall UK, Tim Tozer, smiled as he told Auto Express: "I think we have a great car coming with a name that is entirely appropriate for the UK market."
• Vauxhall Viva to be reborn for 2015
Vauxhall Viva badge will be exclusive to the UK
The decision to give the car a different badge for Britain is something Tozer was personally very keen on.
"It is something I have pushed for," he confirmed. "What we can get best out of this global company is a very pragmatic 'what works is what works' mindset.
"What I have discovered as a newcomer to General Motors is that if we put our thoughts together on this example, our new city car, and we say what name would really help us sell more cars and can articulate what is good for the UK, that's proving possible."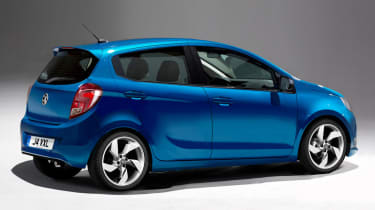 He continued: "A member of my team said 'this could be a good idea, can we take it to Europe and see what they say?'. And they said yes, which I think is fantastic."
The return of the Viva badge will be part of a concerted effort by Vauxhall to improve its brand image, which Tozer admits is a priority. And shaking off its reputation for fleet discounts will be one element of this.
"I do think we have to rebalance," he admitted. "What that means is in a perfect world, Motability cars would stay where they are and [cars being bought] by rental companies would come down a bit. Directionally, we want to create more pull and less push."
Swapping Vauxhall brand for Opel in UK would be "bonkers"
He continued: "There is a bit of 'Vauxhall blindness' out there. Some of the perceptions lag reality – the cars are good. We haven't articulated the brand into the market as powerfully as we can do.
"I am still surprised how often I am asked if the Vauxhall brand is going to be swapped for Opel. The Vauxhall brand has a resonance in this market [Britain] and we would be absolutely bonkers to throw it away."
And as an idea of where Tozer sees Vauxhall finding success, he stressed: "We are not going to use the word premium to say this is where we want to knock on the door of. Maybe there is an antidote to premium. Why are Aldi and Lidl doing so well? Why do people shop there as well as Waitrose? There's some stuff there we can work on – consumers are very savvy now, and we are not a value brand, but I think there is something in that for Vauxhall."
Will you be pleased to see the Vauxhall Viva nameplate back on UK roads? Tell us your thoughts in the comments section below. And click here for more in the 2015 Vauxhall Viva.