Every Vauxhall to get OnStar advanced connectivity tech
New Corsa will be first to offer hi-tech system featuring safety, security, navigation and concierge services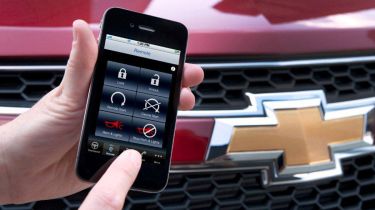 Every Vauxhall model will be offered with GM's hi-tech OnStar communications system in the near future, according to GM Europe President Dr Karl-Thomas Neumann.
OnStar provides a huge range of benefits, some on a subscription basis, and already has 6.5million customers across North America and China.
It works through the latest 4G telephone services and connects to the car's on-board computer to automatically contact the OnStar call centre if the vehicle is in an accident that triggers the airbags. Occupants are automatically contacted, while the emergency services are also called and sent details of the car's location and severity of the impact.
Remote slow function can be used by police
There are security benefits, too, with stolen cars being tracked with the ability for the police to slow the vehicle remotely. Owners will also be able to check if their car is locked and lock it when they are abroad.
Traditional turn-by-turn navigation can be programmed through voice control by contacting the call centre, while operatives can automatically search for and send routes to facilities ranging from fuel stations to restaurants. Roadside assistance and automatic vehicle diagnosis will be further features, while OnStar can also create a wifi network in the car.
Dr Neumann told Auto Express, "We will bring it to every car in Europe. Even the cheapest models will have it as an option and as much as possible we will make it standard."
OnStar Tracking service can reduce insurance costs
The tracking service could also be used to reduce the cost of insurance, as Dr Neumann explained: "If you choose to have a deal with your insurer so they know where you are and how you're driving in return for a saving, then we will do that for you."
Dr Neumann was quick to allay fears over data protection, saying that OnStar will only access the information that customers allow it to. However, he admitted that in addition to subscription costs, OnStar could be a revenue generator by providing users with offers as they approach certain retailers.
• Google car - everything you need to know about Google's driverless car
The subscription is likely to be free for an initial period, with a monthly or annual fee thereafter. The current cost for the full OnStar support package in the US is $29.99 (£17.50) per month.
OnStar is likely to provide more good news for the UK with extra jobs likely at Vauxhall's HQ in Luton. "OnStar in Europe needs an infrastructure and a base. and it will be in Luton," said Dr Neumann. "We have lots of our IT functions in Luton and there's good talent available in the UK."
We'll bring you full details of the new OnStar-equipped Vauxhall Corsa at midnight tonight. Here's everything we know now about the new supermini…