Vauxhall reveals VX360 car servicing on your smartphone
New Vauxhall servicing scheme allows you to view faults on your phone, before authorising repairs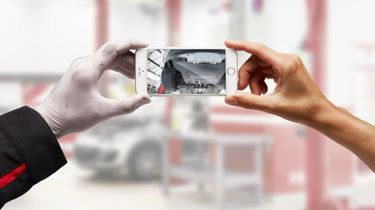 Vauxhall has revealed a new servicing scheme called VX360, whereby technicians film recommended repair work on a small camera or mobile phone – before sharing it with owners via email.
It's a similar setup to the one showcased by Audi almost three years ago. 'Audi Cam' launched across dealers in 2012, and allowed owners a first-hand look at potential faults, before authorising repairs using their computer or mobile device.
The Vauxhall system is identical in all but its name. The customer books in their car at the local dealer, the mechanics film any issues and send on via email or text, and the owner can approve the work in the click of a mouse.
It's completely free of charge, and aims to offer customers peace of mind to authorise work with "complete transparency and confidence".
• Holiday car hire: scams, tips and how to get a cheap deal
Alex Shields, Aftersales Business Operations Manager for Vauxhall, said: "It enables owners to view exactly what the technician sees, thanks to filmed footage of the customer's vehicle whilst it is in a workshop.
"This places customers in a position where they can view the footage and make the choice about whether they wish to proceed and let workshop teams know immediately, saving both time and hassle."
VX360 is available now on MOTs, servicing and repairs, and customers can request it on the day or when booking online or over the phone.
Have you used Audi Cam, Vauxhall VX360, or a similar system from another manufacturer? What did you think of it? Let us know in the comments below…