Vauxhall Astra VXR vs rivals
New Vauxhall Astra VXR faces rivals from Renault and VW in a battle for hot hatch supremacy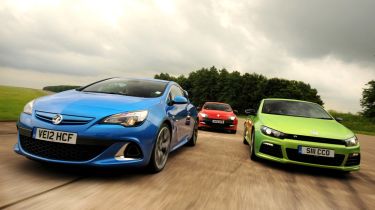 High-powered hot hatches have been coming thick and fast in recent months, with the Ford Focus ST and revised Renaultsport Megane among the most prominent arrivals. Hot on the heels of this dynamic duo comes one of the most eagerly anticipated pocket rockets of all: the Vauxhall Astra VXR.
Based on the sleek GTC three-door and with a class-leading 276bhp power output, the newcomer has been designed as a hardcore hot hatch firmly focused on driver thrills, rather than family-friendly practicality – Vauxhall reckons the new Focus ST is a little soft and sensible by comparison.
With a price tag of £26,995, the Astra is aimed at more upmarket rivals, so we're comparing it against two stars that feature in our CarBuyer ultimate sports car guide. First up is the VW Scirocco R. This desirable model mixes scorching pace with coupe looks and a dash of hatchback versatility. We test it with the company's excellent DSG twin-clutch gearbox, which pushes the price up to a hefty £32,145.
Completing the VXR's welcoming committee is the Renaultsport Megane 265. When fitted with the Cup Chassis, it sets the standard for pure driving thrills. Can the Vauxhall see off two such accomplished rivals? Read on, as we reveal all...
Verdict
Vauxhall set out to create one of the fastest and most exciting hot hatches money can buy. So has it succeeded? The short answer is no.
There's no denying that the Astra VXR looks fabulous, delivers blistering performance and has unshakable grip and composure in corners. Yet there's a crucial ingredient missing from the recipe: fun. You'll cover ground more quickly in the Astra than almost any other pocket rocket, but you'll rarely grab the keys and go for a drive just for the hell of it.
And while it's the cheapest of our trio to buy, it's hobbled by a prodigious thirst for fuel, average residuals and prohibitive insurance costs. It finishes third.
The Scirocco R is expensive and isn't as practical as its two opponents here, but it looks good, is great to drive and beautifully built. Yet it has to give best to the Renault. The Megane backs up its peerless driving dynamics with head-turning looks, a roomy cabin, lengthy kit list and Renault's excellent 4+ aftersales package. It's still the best hardcore hot hatch on the market.
Winner: Renaultsport Megane 265 ★★★★★
A recent round of updates have kept the Megane on top of its game. Fitted with the Cup chassis, it's one of the most entertaining drivers' cars on the road. Plus it looks great, comes packed with standard kit and is backed by Renault's excellent aftersales package. A firm ride means it's not the most comfortable, but that's a small price to pay.
2nd: Volkswagen Scirocco R ★★★★
Classy looks, scorching performance and a great ride and handling balance make the Scirocco R a desirable choice. It's not as practical as its rivals, but it'll seat four in comfort and boasts a decent boot. It's not cheap, even if you opt for the manual, but it feels a cut above in terms of quality and image.
3rd: Vauxhall Astra VXR ★★★★
On paper the Astra VXR has plenty going for it, thanks to its class-leading power output, specially developed chassis and aggressive looks. Yet from behind the wheel the Vauxhall is a bit of a letdown. The engine feels limp at low speeds and the chassis isn't as playful and engaging as its rivals.