Vauxhall Cascada vs rivals
We pit the Vauxhall Cascada against three new cabriolet rivals from Audi, BMW and Volkswagen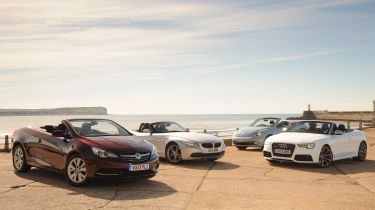 It's been a long time coming, but summer is finally here. And with blue skies overhead, there's no better time to lift the lid on the latest crop of convertibles.
Starting our rag-top round-up is the Vauxhall Cascada – part of the brand's push upmarket. With classy looks, a spacious cabin and attractive pricing, the newcomer has premium rivals like the Audi A5 in its sights. We test it in £23,995 entry-level 1.4 SE guise.
The Audi RS5, meanwhile, promises supercar performance in a stylish, four-seater soft-top. But the coupe got only a lukewarm reception, so can the Cabriolet do better?
If it's high fashion rather than high performance that floats your boat, then the new VW Beetle Cabriolet could be ideal. Retro lines and VW Golf running gear combine to deliver stylish and sensible wind-in-the-hair thrills.
And no convertible test would be complete without a roadster. The BMW Z4 has been given a mid-life refresh, but has this done enough to lift it above the talented Audi TT?
Verdict
With summer now in full swing, the charms of a convertible are hard to resist – and our four contenders demonstrate that there should be something for every taste and budget.
The Vauxhall looks good, has a roomy interior and, in entry-level guise, isn't too expensive to run. It's not the most fun car to drive and its cabin can't match those of premium rivals for quality, but it's a capable and composed drop-top.
Buyers wanting more thrills will love the RS5's performance, soundtrack and muscular looks. While it's expensive, only BMW's M3 Convertible comes close to matching its blend of talents.
If you're looking for fun on a smaller budget, then the Beetle is hard to ignore. It looks great, and it's as easy and engaging to drive as a Golf.
Finally, the Z4 has been lifted back into contention by this update. It's still not quite as enjoyable to drive as you'd expect from a BMW roadster, but the new entry-level engine is smooth and reasonably powerful, as well as cost-effective to run.