'The all-electric Vauxhall Corsa is a landmark car for EVs'
The new Vauxhall Corsa has gone electric and editor-in-chief Steve Fowler thinks this could be a game changer for electric cars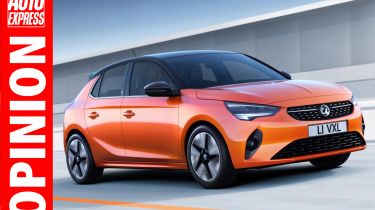 We write a lot about electric cars these days. It's our job to report on what's happening in the car business and, whether we like it or not (and many don't), it's a subject that's dominating new car stories and the wider news agenda. Not a day seems to pass without a story cropping up about climate change and electric vehicles. 
One of the phrases that the car industry often bandies about when talking about EVs is that they have to be 'normalised'. That means cheaper, more accessible and more akin to what we've been driving for decades. For me, one car has always stood out as one that could help normalise electric car ownership: the Vauxhall Corsa. 
The Corsa is one of those cars that everyone has a story about; whether they learned to drive in one, owned one or had a mate who modified one. It's a constant in the UK best-sellers list – last year it was the third best-selling car in the country. And now it's going electric; this is really EVs going mainstream. 
It's going electric in some style, too. As you can see, the Corsa has matured nicely, with Vauxhall's design team led by Mark Adams producing one of the best-looking superminis we've seen for a while. Alongside its sibling, Peugeot's 208, the humble supermini is looking posher and cooler than ever.
One of the most important parts of normalising an electric car is the range. Vauxhall says that a real-world range of 205 miles should be achievable – more than enough, I suspect, for most Corsa owners.
Of course, that's nothing if the car's not affordable and, let's face it, most EVs are expensive even when fuel, tax and other running cost savings are taken into account.
So what about the Corsa? Converting the cost from the expected German price in Euros and taking away the current plug-in car grant, you could have an electric Corsa on your driveway for as little as £23,000. Expensive for a Corsa, maybe, but not for an EV that promises as much as this one.
Do you agree that the new Vauxhall Corsa is a landmark for electric cars? Let us know your thoughts in the comments below...