Vauxhall Insignia Country Tourer 2.0 CDTi BiTurbo review
Vauxhall Insignia Country Tourer is a good choice, but BiTurbo version is thirsty
There's a charm and desirability to the Vauxhall Insignia Country Tourer that the standard car simply can't muster - it looks great, grips and corners well and the recently-facelifted interior feels right up to date. However, with poor fuel economy and unremarkable performance, this BiTurbo engine and auto gearbox combination is flawed. We'd stick with the 163bhp manual version and save yourself £5,510 - the cheapest version is also £3,881 less than the entry-level VW Passat Alltrack.
It's easy to see why jacked-up, 4x4 Audi Allroad-style estates have become so popular - they offer all the space, off-road ability and styling flair that most modern families could wish for. So it's hardly surprising that Vauxhall has followed suit.
We've already driven the entry-level 163bhp Vauxhall Insignia Country Tourer with a manual gearbox, but this is the range-topping 192bhp BiTurbo model only available with a six-speed auto, which is a bit of a shame. It's all well and good having an extra 29bhp and 50Nm of torque to play with, but the gearbox never feels sporty enough to make it worth your while.
Settle into a cruise and it slides between ratios smoothly enough, but plant your right foot and it's slow to kick down. Although you can change gear manually by pulling and pushing the gearlever, there are no paddles on the wheel to truly engage you with the driving experience.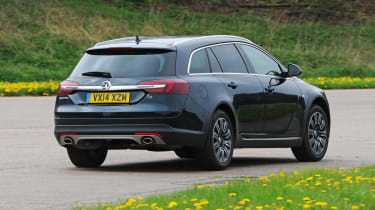 The engine pulls strongly, as you'd expect, but is a bit gruff during acceleration and is certainly no hot-rod. When you consider it's an astonishing 20mpg thirstier than the 163bhp manual model that's ultimately more engaging to drive, it's hard to make a case for it.
As an overall package though, the Country Tourer is an easy car to like. The cladding around the arches and sills, plus a 20mm increase in ride height make it a bit of a head-turner - especially if you go for a lighter paint colour. Most of the time the ride feels reassuringly firm, with tight body control for a tall car in the bends, but over larger lumps and holes extra cushioning becomes apparent. The four-wheel drive system only sends power to the rear when needed, but it's a seamless process - not once did it scrabble for traction even during a torrential downpour.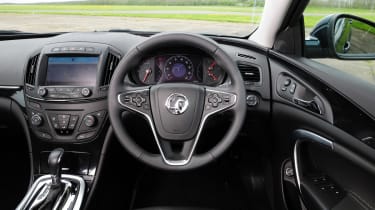 All Country Tourers come with an electric tailgate, adaptive headlights and parking sensors as standard, while our top-spec Nav models added Vauxhall's latest IntelliLink sat nav, complete with a futuristic, but fiddly to use track-pad controller.
Based on the Sports Tourer, the Country Tourer has the same spacious interior and one of the biggest boots in its class at 540 litres, or 1,530 litres with the rear seats down.
Go for the Country Tourer Nav specification, and Vauxhall throws in an 8-inch colour touch screen, a track-pad and an 8-inch digital instrument cluster behind the wheel.