VW Group boss steps down, Herbert Diess steps up as new chairman
Major reshuffle within the VW Group sees Herbert Diess replace Matthias Muller as the Chairman of the Board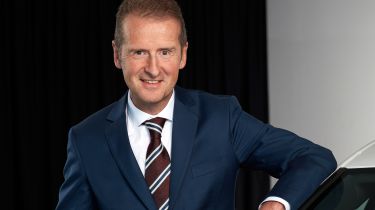 The boss of the VW Group, Matthias Muller, has stepped down from his role as Chairman of the Group's Board of Management, the company has confirmed. Herbert Diess, current brand boss of Volkswagen, has been announced as his successor. 
The move is the biggest shake up of the German car giant since the Dieselgate scandal back in 2015. The move to replace Muller is also part of wider business restructure that will see the company and its brands – VW, SEAT, Skoda, Lamborghini, Bugatti, Audi, Bentley and Porsche – split into three pillars: Volume, Premium and Super Premium.
SEAT, Skoda and light commercial vehicles (LCVs) will sit in the Volume segment, while VW and Audi become the Premium brands. Porsche will lead the Super Premium category, which also includes Lamborghini, Bugatti and Bentley.
Bundling the brands together is a move aimed at speeding up decision-making processes within the company. As well as his role as the Chairman of the Board of Management, Diess will also be responsible for Group Development and Research, Rupert Stadler, current Audi CEO, will oversee Group Sales, while Oliver Blume, Porsche CEO, will take responsibility for Group Production.
Chairman of the Supervisory Board Hans Dieter Pötsch, said: "We've already accomplished a great many things since Autumn 2015; we managed the greatest corporate crisis in its corporate history. The group has fundamentally realigned and repositioned itself for it 2025 strategy."
Read all our latest VW car reviews here...