'The Volkswagen ID.2all has been created with a £22k price tag in mind'
Deputy editor John McIlory thinks VW's latest small concept could be the people's electric car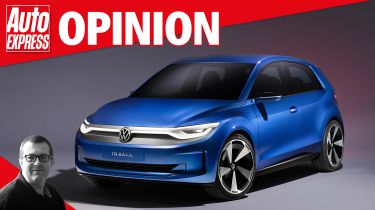 It might be one of the most quickly conceived concepts that the car industry has ever seen, but Volkswagen's new ID.2all may yet prove to be one of the most significant. Created in barely six weeks, under the direction of new design boss Andreas Mindt and with backing from VW's newly installed CEO Thomas Schäfer, the ID.2all (yes, we know – dodgy name) is said to be at least 80 per cent of a new, smaller, more affordable EV that could cost from just under £22,000.
Walking around the car after its unveiling in Hamburg, I was struck by how clean, simple and unfussy it is – and how the details show that it has been created with that £22k price tag in mind. The front end could be that of a Polo; the sides are chiselled, with very little of the complex surfacing that needs state-of-the-art stamping presses. It even has regular door handles (although Mindt would admit that his team is "fighting" to keep the rear ones subtly integrated into the C-pillar).
The show mock-up lacked a working interior, but the official pics show a back-to-basics approach that corrects some of the key areas where VW has gone wrong in the past two years: a switch for each of the electric windows, regular buttons for cabin temperature and the heated seats, even (whisper it) a volume knob. What progress!
The thing is, if more of us really are going to switch to electric vehicles as this decade progresses, we'll need a variety of compact and relatively affordable offerings from companies such as VW. So the fact that the ID.2all looks a little ordinary and darned realistic is probably a good thing.
The only tragedy about the ID.2all is that a) it has taken VW so long to unveil a small, affordable model, after first announcing it in 2019, and b) the car is still two years away. Production, we're told, will start in the second half of 2024, with first deliveries in early 2025. Those dates can't come quickly enough for VW – and for many potential buyers.
Do you agree with John? Let us know your thoughts about the VW ID.2all concept in the comments section...