Volkswagen Golf production to restart after supplier dispute
Production lines for best selling Golf are to get up and running again as supplier dispute is resolved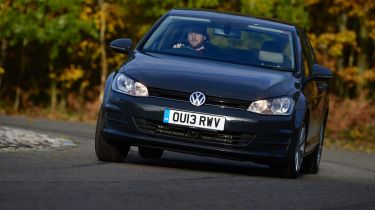 Production of the Volkswagen Golf is to be restarted after a dispute with two key suppliers was resolved by the manufacturer.
Suppliers of seat components and differential housings for the car had stopped parts being sent to Volkswagen, forcing factory lines - including at their Wolfsburg headquarters - to be stopped.
The two firms - CarTrim and ES Automobilguss - were refusing to fulfil orders due to a legal wrangle over a cancelled contract, which they claim was costing them millions.
But an agreement between Volkswagen and the Eastern Horizon Group - of which the two firms are part of - has now been struck. Details of the agreement "will remain confidential" according to a VW spokesman.
A spokesman added: "The suppliers will resume supplies to Volkswagen in the near future and the plants which were affected are therefore preparing step-by-step for the resumption of production."
The shutdown lasted a little over 24 hours and VW said it doesn't expect to have to delay any confirmed delivery dates and it's likely the estimated 27,000 workers will have full working hours restored after initially being told to go home.
The Golf is the firm's best selling model in the UK with 73,409 sold in 2015 alone. Despite the Golf's continued success, VW has faced a turbulent 12 months dealing with the fallout from the emissions scandal.
A spokesman for VW said of the latest crisis: "We will do everything in our power to keep any consequences from affecting our customers. Should deliveries be delayed in individual cases, we would like to apologise now for the inconvenience caused."
Have you ordered a new Volkswagen Golf? Let us know in the comments section below...