Next-gen Volvo infotainment system to integrate Google Assistant
Volvo to shun in-house app development in next-gen Sensus infotainment system, which will be based on Google Android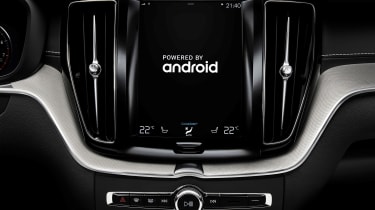 Volvo is integrating Google Assistant into its next generation of in-car infotainment because the Swedish brand "isn't smart enough to develop the apps", according to its President Hakan Samuelsson.
The deal, announced last week, will mean that Volvo's next Sensus system, likely to be introduced by 2020, will be based on Google's Android operating system and offer the voice-controlled Google Assistant along with Google Maps and Google Play Store, through which car-specific apps could be developed and sold directly to car owners.
• Best in-car infotainment systems
Volvo's approach contrasts with an industry-wide belief that there is considerable revenue potential in car users' data. SEAT and Jaguar Land Rover are among a number of firms with in-house app development and investment divisions, hoping to create new profits by selling services to their car users.
Speaking at the Financial Times Future of the Car Summit, Volvo President Hakan Samuelsson said the decision to offer Google as the main in-car service would allow the firm to concentrate on other priorities, such as electrification and developing its Care by Volvo car subscription service.
"We've come to the conclusion we won't try to make business dealing with consumers' data," Samuelsson said. "That data is owned by our consumers, we don't own it and we shouldn't try to monetise that. The legislation is pushing us in that direction anyway.
"I think we should stay on what we are good at," he added. "We should offer a very attractive car with the best services, and I don't think we are smart enough to develop all of those apps. So we're opening up the car, which is different from everybody else. It's an interesting platform and consumers will be able to download hundreds of apps, with new ones every month. They'll be much better than the ones we'd have made ourselves."
However, Samuelsson said that there could still be some situations where Volvo will ask the car owner or user to have access to their data. "If the consumer approves, there could be a situation where the road is icy and we want to be able to communicate that to other road users, to improve safety," he said. "Or there'll be servicing and repair information that we'd like to use. There will still be a lot of software in our company. We're in the middle of the transition right now but we'll have fewer hardware engineers and more software engineers."
Volvo looks set to ditch diesel by never again offering a new car with a diesel engine, starting with the new S60…