New Volvo coupe-SUV set to lead next-generation of brand's EVs
Volvo planning a new range of sleeker coupe-SUVs in EV rethink, and our exclusive image previews how they could look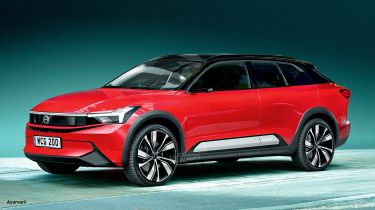 Volvo's model range expansion will see the company develop a fleet of sleeker and more aerodynamically focused vehicles, the firm's design boss has revealed to Auto Express.
The Swedish firm has promised to launch an all-new electric vehicle every year up to 2025, with a focus on higher-riding or crossover vehicles. On top of this, Volvo will also move into new segments to help grow the company and its model portfolio.
Speaking exclusively to Auto Express, Volvo's Senior Vice President of Design, Robin Page, told us that in combination with the firm's focus on electrification, Volvo's future model line-up will be very different to what we see today.
"Moving into electrification gives us an opportunity to rethink what cars are. We're more open to not just repeating what we've done before but also looking at opportunities both in bigger and smaller cars," Page explained. "As a design team we're always exploring beyond the obvious, and of course with electric vehicles it brings opportunities and challenges in terms of aerodynamics and balancing with people's needs in terms of space."
Page said that electric vehicles and SUVs "contradict each other", so the firm is looking at solutions for future models which will allow customers the models they want – SUVs – with the electric technology that is required to meet CO2 targets.
"The tricky part of the future is the SUV world, because the traditional SUV is about a high h-[hip]point and roof," Page said. "As we go into EVs, of course, the value of range and aerodynamics becomes a real point.
"How does the world look when you have people wanting that high position and all the usability of an SUV, balanced with the fact they want range? Clean aerodynamics."
Our exclusive image gives you an idea of how future Volvos could look, sticking with the SUV bodystyle that buyers demand, coupled with sleeker proportions to help improve aerodynamic efficiency and increase driving range.
In the short term, the next fully electric vehicle from Volvo will be the third-generation XC90, due to be revealed next year. Beyond that, Volvo will broaden its range with bespoke EVs, as previewed in our image. Page added: "It's whether you optimise your current vehicle or rethink a new type of vehicle."
What do you think of our exclusive image? Let us know in the comments section...