'The world isn't ready for a £100k Volvo'
Editor-in-chief Steve Fowler is shocked by the new Volvo EX90's weight and price tag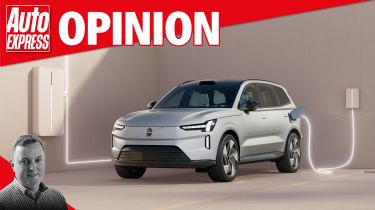 Big Volvo SUVs don't come around very often. We've only ever had two XC90s in 20 years and I've always been a big fan (and been lucky enough to run a couple of them on the Auto Express fleet), which makes the arrival of that car's replacement – called EX90 – officially a big thing.
But, for all the excitement I've felt in the lead up to the new car's launch, I can't help but feel a little disappointed by two big things: its price and its weight.
The new EX90 weighs an astonishing 2,818kg – and that's before it's fully loaded with up to seven people. Has Volvo done absolutely all it can to keep the kilos off? Weight is the enemy of efficiency, and that is all the more important in an EV – which the EX90 is.
How much further could the EX90 go on one charge of its enormous 107kWh battery for every extra kilo saved? Volvo will, of course, say that its customers want all the kit it's included and, to be fair, there is some really groundbreaking stuff in there, especially when it comes to safety – as you'd expect from Volvo.
But then there's the price: the first models to arrive in the UK are expected to start at over £96,000, rising to over £100,000. I don't know about you, but that seems like an awful lot of money for a Volvo to me.
I've often moaned about the rapid rise in car prices at the bottom end of the market, but the temptation for some makers to milk the margins at the more profitable end seems too great.
Developing and building EVs is a costly business, that's for sure. But premium brands – not just Volvo – need to make sure they're not pricing themselves out of the market. Especially in an EV world where buyers are increasingly attracted more by tech and style than a badge.
This could be an open goal for brands like Kia, Hyundai and a host of newcomers with increasingly appealing EVs that have the style and quality to match – or beat – traditional premium players, but at a fraction of the price.
Do you agree with Steve? Let us know your thoughts in the comments section...