Volvo Concept Estate uncovered in Geneva
Volvo's Concept Estate revealed at the Geneva Motor Show with styling and interior design pointing towards new XC90 SUV
Another major motor show, another stunning concept car from Volvo. The Concept Estate, seen here at the Geneva Motor Show, is the third in a series of show cars that includes the Concept Coupe, from the 2013 Frankfurt show, and the Concept XC Coupe revealed at the Detroit Motor Show in January.
This time around Volvo is sticking to what it's best known for – estate cars - although its designers have applied a twist, sculpting a shooting brake bodystyle rather than a traditional four-door wagon. The purpose of this trio of concepts is to preview the design and technology that will debut in the all-new XC90 SUV, set to break cover at the Paris Motor Show in September, and other future models beyond that.
Volvo Concept Estate: cabin design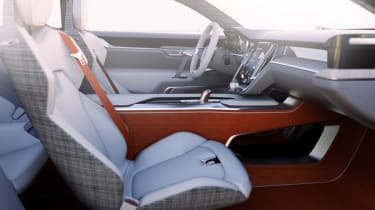 Whereas the previous two concepts were focused mainly on exterior styling, the estate's cabin tells the big story here. It shows-off a brand-new interior architecture that takes de-cluttering to the next level. Almost every button except for the volume controls, hazard warning and window heater switches have been removed, and their functionality integrated into a huge tablet-style, portrait-orientated, central touch screen.
• Geneva Motor Show 2014: preview
"Not having to deal with buttons and controls for a growing number of functionalities is like being freed from a pair of handcuffs," said Robin Page, Volvo's interior design director. "The concept car showcases how this user interface will be integrated in our new car generation."
Familiar fingertip gestures, such as swiping and pinching, are used to control the display, which interacts with the digital instrument cluster behind the wheel. Controls on the steering wheel and a voice commands can also be used to access the infotainment, while the layout of the information, navigation and media functions is described by Volvo as a series of tiles; the one you're interested in expands into the foreground, while the others fade into the background.
Trimmed in tactile materials, including woven wool carpets, tanned saddle leather on the dash and naturally aged wood inlays, the Concept Estate's interior is full of quirks. For example, the seatbelts are finished in bright orange, while the crystal gearlever has an orange glow. There's even a traditional Swedish board game – 'kubb' – built into the boot floor.
Volvo Concept Estate: exterior design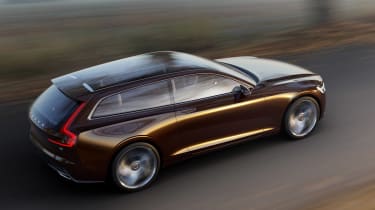 Inspiration for the exterior design comes from the Volvo 1800 from the mid Seventies. "The 1800-models are iconic Volvos, however, using elements from their exterior and interior has nothing to do with being retro," Thomas Ingenlath, senior vice president of design at Volvo, explained.
The front end picks up where the other two concepts left of with a floating grille, flanked by T-shaped daytime running lights – signatures we're certain to see on the new XC90. A full-length glass roof, 21-inch wheels and a low sleek bonnet finish off the sleek profile.