Volvo V60 1.6 D2 (115) manual Business Edition, 54%
German cars are usually the residual stars in the exec estate class, but the Volvo V60 bucks this trend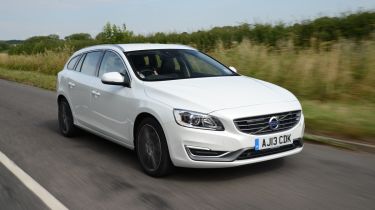 German cars are usually the residual stars in the exec estate class, but the Volvo V60 bucks this trend. It scores on style rather than space, with the 430-litre boot well behind the 495 litres of a BMW 3 Series Touring.
Yet a facelift this summer has added to the V60's appeal – and while most models retain 42-45 per cent of their new price, Business Edition versions keep above 50 per cent. Best of all is the D2, which has a clean 113bhp 1.6 diesel and stop-start, and retains 54 per cent.
While this engine isn't the most powerful around, it promises low running costs, plus Business Edition models get lots of kit, including climate and cruise control, Bluetooth, DAB radio and sat-nav.
Add the V60's advanced safety kit – including City Safety, which can automatically brake the car if it senses an imminent collision – and it's a very tempting package.
Price now: £22,195
Value after three years: £11,985