Uber resumes self-driving car tests after Arizona crash
Temporary setback for Uber's self-driving testing programme after headline-grabbing Volvo XC90 roll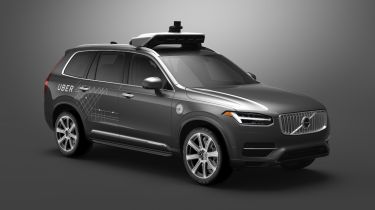 Uber has resumed its self-driving car testing programme three days after a headline grabbing accident in Tempe, Arizona, involving one of its modified Volvo XC90s brought the programme to a halt.
• Self driving cars: everything you need to know
According to Reuters, Uber carried out a "brief investigation" into the incident before giving the tests – currently taking place in the American cities of Tempe, San Francisco and Pittsburgh - the green flag to resume.
The accident, which involved a Volvo XC90 fitted with self-driving equipment, saw the SUV flip over onto its side after a collision with a another car. The crash occured even though reports suggest there was two safety engineers at the wheel ready to take over control. No injuries were reported as a result of the accident.
According to the local police in Tempe, Arizona, the other car involved "failed to yield" to the Volvo at a left turn, and the Uber vehicle was not at fault in the accident. However, the incident is just one of a number in a tough week for the global ride-hailing brand, with the ethics of bosses called into question by stories about workplace practices.
• Feature: how to get a job as an Uber driver
In a statement, an Uber spokesperson said "we are continuing to look into this incident and can confirm we had no backseat passengers in the vehicle". Currently, only the Arizona self-driving trials have been stopped while an investigation takes place.
What do you think of self-driving cars being tested on public roads? Let us know in the comments...