Product Awards 2011
Get more from your car! We reveal the best products we've tested in the past 12 months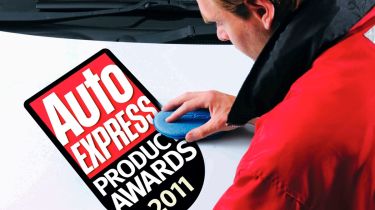 Get more from your car! The 2011 Auto Express Product Awards names the best polishes, gadgets, tools and kit that will help your car look good for longer.
From the inside to the outside, our top picks in five key categories will also help you keep safe, and keep your car running smoothly…
Our comprehensive reviews also have all the information you need to keep your car looking showroom fresh for longer - with hints and tips on how to get the best from the products we are testing.
And with advice on everything from wash waxes to pressure washers, helping keep your car safe from grime, crime, crashes and scratches.As well as car care, we also reveal the best in-car gadgets, tyres and sat-navs too.
As usual, we've named the highly coveted Auto Express Product of the Year 2011, and there are special mentions for our Person of the Year - awarded to a very influential character in the industry.
Finally, we listen to you, with our Readers' Product of the Year.
To help you find our favourite products and accessories, just look below for a list of all the brands included in this year's awards. To get started, select a category from the menu on the right.
3M 0870 536 0036 www.3mcarcare.co.uk Angelwax www.angelwax.co.uk Apple 0845 600 1683 www.apple.com/uk Armor All 0845 602 1995 www.armorall.co.uk Autoglym 01462 677766 www.autoglym.com Automaxi 01525 383055 www.mountneyltd.com Black Diamond 01438 749501 www.blackdiamondproducts.co.uk Bosch 0844 736 0108 www.boschgarden.co.uk CarPlan (Triplewax, Wonder Wheels) 0161 764 5981 www.tetrosyl.com Collinite 01353 676007 www.shipshapenorfolkltd.co.uk Comma 01474 564311 www.commaoil.com Continental 01895 425900 www.conti-online.co.uk CTEK 01274 643121 www.ctek.comDodo Juice www.dodojuice.com Dunlop 0121 306 6890 www.dunlop.eu Garmin 023 8052 4000 www.garmin.co.uk Goodyear 0121 306 6000 www.goodyear.co.uk Halfords 0845 762 6625 www.halfords.com Hozelock 0121 313 1122 www.hozelock.com Jabra 08000 327026 www.jabra.co.uk Meguiar's 0870 241 6696 www.meguiars.co.uk Mer/Farécla 020 8401 0002 www.merproducts.co.uk Michelin 0800 591859 www.michelin.co.uk Motorola 01256 358211 www.motorola.co.uk Muc-Off 01202 307790 www.muc-off.com Navigon 0871 288 0154 www.navigon.com Osram 01744 812221 www.osram.com Philips 01293 776774 www.philips.com Poorboy's World 07807 551208 www.waxdaddy.co.uk Ring 0113 213 2000 www.ringautomotive.co.uk Samsung www.samsung.co.uk Sealey 01284 757500 www.sealey.co.uk Simoniz 0161 491 7391 www.simoniz.co.uk Smartwax 01920 420868 www.smartwax.net Sonax 01798 344888 www.sonax.com Spautopia (PureX, Bromoco, Scholl) 01780 721460 www.spautopia.co.uk Thule 01275 340404 www.thule.com Turtle Wax 01695 716610 www.turtlewaxeurope.com Tomtom 0845 161 0009 www.tomtom.com Valeo 01299 251130 www.wiperblades.co.uk