Car maintenance
The best gear to keep your car running smoothly and reliably.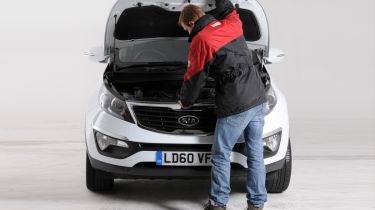 From new tyres to battery chargers, replacement bulbs to air-compressors, keeping your car in tip-top condition can sometimes require more than just elbow grease and careful cleaning.
Here we list the best kit to keep your car as safe as it is good to look at, and provide you with some advice covering all the categories.
Q. Which coolant should I use in my car? A. As with oils, there is a wide range of coolants on sale, as makers require a specific mix of ingredients and corrosion inhibitors to ensure the best engine protection. Check your handbook or buy from a dealer. Drivers with several cars don't need coolant for each, though. Prestone's universal version suits all engine types, and can be mixed with other products.
Q. Any servicing I can do myself to save cash? A. Electronics are best left to the experts, but if you have the tools to get the engine cover off, plus a jack and axle stands, you could change the oil and filter. Some spanners, sockets and screwdrivers are all you need to replace the air, fuel and pollen filters, plus check and replace the coolant or brakes, too. A manual like those from Haynes will be a big help.
Q. Can I fit a tyre pressure monitor to my car? A. Yes, and a simple solution is valve caps that change colour when the pressure drops. More sophisticated, and costly, set-ups involve pressure monitors that send signals to a display on the dash. Either will help maximise economy by keeping your tyres correctly inflated.
Q. Should I change my tyres with the tread at 3mm? A. The legal limit is 1.6mm, but some makers say wet road grip drops off below 3mm – and our tests have proven this. In the wet, tread is shifting water from under the tyre; shallower grooves mean it shifts less water, making it more prone to aquaplaning.
Q. Is driving on a dipped headlamp beam a good idea in daylight? A. It is, to boost visibility. But if you fit a daytime running light (DRL) kit, the tail, side and dash lamps needn't be on, too. From spring next year, all new cars will have to feature DRLs as standard, and there is a variety of aftermarket kits to help all drivers get the safety benefits. Ensure any set meets regulation ECE R87, to give the intense, eye-catching light.
Q. I keep getting dazzled by cars with super-bright bulbs. Why? A. If the light seems to be everywhere, rather than just focused around the headlamp, it's likely the vehicle has a retro-fit high-intensity discharge (HID) or xenon kit. These replace the normal filament bulb with an HID burner, but the different shape of the light source means the reflector can't control the beam. The use of such set-ups is illegal.
Q. What will the new tyre labelling rules mean? A. Rules coming into force in November 2012 will bring new labelling to make buying tyres like choosing a fridge or dishwasher. Rubber will have to meet standards for efficiency, drive by noise and wet grip for the first time, and it will be ranked accordingly. All new car patterns have to comply, bar studded, retread and space-saver tyres. But as the rules cover only three aspects, you will still need tests like those in Auto Express for a full tyre comparison.
Q. Should I automatically change old rubber? A. Yes, even if the tread appears in decent condition. When we compared old and new rubber with the same tread back in 2009, there were big variations in wet grip. While tyres don't have best before dates, a good guide is to switch after six years; look out for tiny cracks in the tread grooves and sidewall. You can tell how old your rubber is from the four-figure code on the sidewall – the first two figures represent the month of manufacture; the second two the year.
Q. Are all-season tyres any good in winter? A. If you don't have space to store winter rubber, they are. Our tests have shown all-season patterns perform better in the cold than summer tyres – if not as well as a full winter version. The same is true on wet and dry roads. So while it's a compromise, an all-season pattern will improve your chances of making it through the winter without problems. Depending on your car, another solution may be to run winter tyres all year.