Getting away
Planning a long journey? We reveal the best holiday kit for you and your car.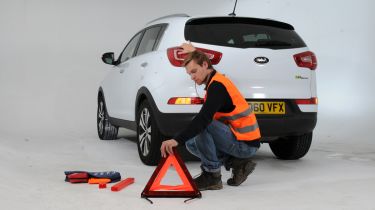 We all look forward to a summer break - but if you're going on a driving holiday, don't forget to stock up on the kit you need for a stress-free time.
Our guide lists the best roof boxes, portable sat-navs and new phone sat-nav systems to make sure you make the most of your precious time off. Plus, we give our top tips as well.
Q. The roof bars I keep on my car for work are noisy. Why? A. As they cut through the air when you drive, most conventional aero or square roof bars make some noise. But not all of them: in our tests, Prorack's Whispbars could barely be heard at motorway speeds. These wide, slender bars were developed in a wind tunnel, and although there are cheaper ways to carry kit on the roof, they are very well made and easy to use. Choose from a flush finish with the mount, for an original equipment look, or an extended arm for maximum load carrying.
Q. If you can read a map, why do you need a sat-nav? A. Portable sat-navs don't just get you from A to B. Many also monitor traffic, to prevent you becoming stuck in jams, even if you know the route. Plus, lots have safety camera alerts and can be set to provide a warning if you exceed the limit. They can also be a mine of information, giving locations of nearby points of interest, such as fuel stations, cash machines and shops. There's also the safety aspect: sat-navs provide directions as you go, but you have to stop to read a map while on the road.