Wheel care
Keep your wheels and tyres gleaming with our pick of the best cleaners and polishes.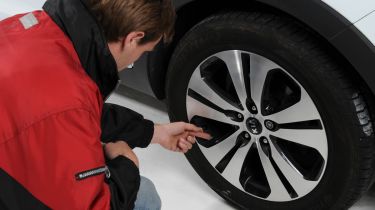 Time to focus on your rims, which get plastered in road grime and brake dust. We rate the products that bring them back to their best, and give our tips to keep your car's wheels and tyres in top condition as well.
Q. My wheels get dirty quickly. What can I do?A. The easiest solution is to use a wheel wax. Just like a bodywork wax, this gives a protective coat that will repel water and slow disc dust build-up. First, use a clay bar to remove contaminants and provide the best bond for the wax or sealant. Just as on paint, you'll be surprised at what comes off on the clay even after cleaning. We like Mer Wheel Wax, Angelwax and Collinite No 845. If the dirt keeps coming back, check that the brake pads are to original spec.
Q. My wheel nuts are dull, with grey spots. Why? A. This is probably down to an overly aggressive wheel cleaner. Bolts tend not to have the protective clear coat of rims. Do you use roadside hand wash sites? These employ strong solutions to shift grime rapidly, as time is critical – and this can take its toll on bolts and nuts. The safest answer is to clean the rims yourself with one of the universal products tested here. Use a pressure washer, and the job should be done in minutes, and prevent further damage.
Q. Can you use a pressure washer on sidewalls? A. Ultimately, you can damage the tyre, but this problem is more common with high-powered professional washers than domestic machines. Heated water aggravates the problem, and never use a fine jet close to any part of the car. To clean sidewalls, work in a wheel cleaner, then rinse off with a fan spray from 20cm away, keeping the lance moving to avoid prolonged pressure on one section of the tyre. Avoid spraying water directly into the bead where rubber meets rim.