The best smartphone app
There's a raft of apps to make drivers' lives easier. We name two we can't live without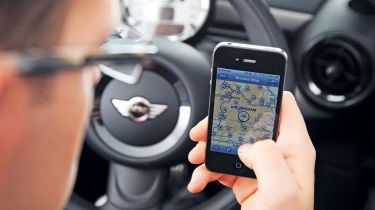 We've tried dozens of car-related apps in the past year on iPhone, Android, Blackberry and Windows Mobile smartphones. A good guide to their success is if we've kept them on our mobile after the test – and we won't be deleting either of our picks any time soon.
While some apps are fun or raise a smile, these are serious bits of kit which have come to the rescue many times since we downloaded them. Our top two are both winners of their respective categories, and you'll probably want to use them at least once a week.
Winner: TomTom UK & Ireland
Price: £49.99
Contact: 0845 161 0009, www.tomtom.com
All the sat-nav giants have their own smartphone software, but TomTom's feels the most at home on a handset. It integrates well with the iPhone, pausing music for directions and giving easy access to the iPod controls. You also get a choice of routes, with IQ Routes technology using historic traffic data to select the best choice. It's not the cheapest – the excellent traffic and speed camera alerts cost £26.99 a year extra each. But it's the closest thing to a full standalone sat-nav on your phone, so is a worthy Best App.
Commended...
AA Parking
Price: £1.99
Contact: www.theaa.com
This simple and accurate app – powered by Parkopedia – will come to the rescue when you're searching for a space. You can either enter your location or leave it blank and the app will search near you. This brings up a list of nearby free and paying car parks. Once a car park is selected, it shows it on a map and, importantly, reveals where the entrance is – not always obvious for city centre car parks. It even shows real-time spaces where available as well. Simply put, this is £2 well spent.
App Q and A
Can I use a phone app in-car? And won't apps zap my battery? The law states it's illegal to touch a handheld telephone with the engine switched on. But once you've set them up, most in-car apps are designed to run while you drive – although a phone holder is an essential so you can see the screen while on the move. Some apps do use more battery than others, though – it's wise to get a 12-volt car charger for your smartphone.
What about data usage? Will apps leave me with a big bill? And will they reveal my location? Some apps use more data than others; what this costs you depends on your phone contract. But many don't eat into your data at all; these often take up lots of phone memory. Just bear in mind that data usage is expensive when abroad. Many apps rely on anonymous location data; they won't reveal personal details without your permission.