The best tool bag
Carrying tools in your car? Keep them organised and protect your boot as we name our three best buys from 10 soft bags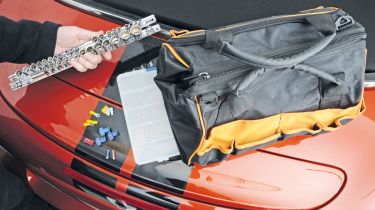 Soft tool bags are easy to carry, less likely to damage your car's interior trim and are often a better choice than a metal box if you regularly have to transport tools around. Plus, a bag is almost always going to be cheaper than a box.
We chose our favourites after loading 10 up with a selection of common car tools. We also wanted some way of keeping them apart, so we looked for pockets and compartments, including one for keeping small items such as fuses and screws.
Winner: Halfords Large Tool Bag with Tray
Price: £24.99
Contact: 0845 762 6625, www.halfords.com
The secret of this 400mm bag's success is the large plastic tray in a zipped compartment at the base. It's packed with compartments that can be altered with movable dividers, making it ideal for small items and tools. Despite that box, there's still plenty of room for tools and a good selection of pockets and slots makes it easy to keep them apart.
Commended...
Sealey 500mm Tool Storage Bag
Price: £17.26
Contact: 01284 757500, www.sealey.co.uk
A more conventional approach compared to our winner, but equally well thought-out, this bag has masses of pockets inside and out. They're padded on the outside, while inside the pockets come in a variety of shapes to accommodate all tool sizes. Crucially, they're also quite deep, which prevents items falling out. The bag is good to use, too, as the stiffened jaws stay open even when it's empty. This offers a lot of storage for less than £20.
Silverline Tool Bag Hard Base 600mm
Price: £10.78
Contact: 01935 382252, www.toolstream.com
It's hard not to focus on the low price when looking at this huge Silverline, but products have to be more than just cheap to earn a commendation from us. Alongside its huge capacity and hard-wearing plastic base, this bag has a good selection of external pockets, including a zipped one for safe storage of small bits and pieces. Internal pockets are a little shorter than we'd like, but that's easy to overlook at this great price.
Tool bag Q and A
Why have tool bags become so popular? What's wrong with an old-fashioned tool box? Tool boxes are still useful, but are probably best suited to being kept in the workshop or garage. They're not the easiest to carry and are usually quite heavy, especially the metal ones. If it goes in the boot, sharp edges can damage carpet and plastic trim, which is where a softer tool bag can often be a better choice.
I'd like to save some cash by servicing the car myself. What tools will I need to do the job? We recommend you leave the electronics to the experts, but there's lots you can do yourself. If you have a jack and axle stands, you can change the oil and oil filter. Spanners, socket wrenches and screwdrivers are all you need to replace the air, fuel and pollen filters, and these will also allow you to check and replace the coolant and brakes.