The best summer tyre
Only the best tyres excel in our thorough assessments – and we name the top three out of our 10 tested tyres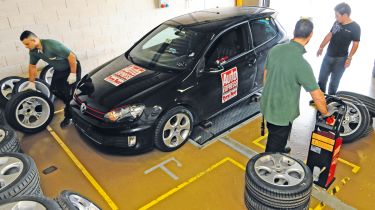 Performance labelling comes into force on tyres this winter to make it easier to decide which to buy, but it will cover only noise, economy and wet grip. The one way to find out how a tyre performs is to read our tests, which we've been doing for more than a decade.
They cover handling and braking in the wet and dry, plus aquaplaning, cabin noise and economy, and reveal all-round ability. We tested one of the UK's most popular sizes: 225/45R17. In finding a winner the emphasis is on safety – price plays a very small role in the result.
Winner: Goodyear Eagle F1 Asymmetric 2
Price: £117
Contact: 0121 306 6000, www.goodyear.co.uk
New-for-2011 Asymmetric 2 secures the victory for Goodyear thanks to a great all-round performance. While it won none of our nine tests, it was in the top four for all but two – and that was enough to see off less balanced rivals. It inspired confidence in the wet, but also matched that in the dry. Safe and secure.
Commended...
Michelin Pilot Sport 3
Price: £130
Contact: 0845 366 1590, www.michelin.co.uk
While the company won't confirm it, we believe there's been a change of focus at Michelin. It used to star in the economy tests at the expense of wet grip, but more emphasis is now placed on the latter. This more balanced approach paid off in our test with some stellar performances in the wet, none more so than in curved aquaplaning – where the tyre rides up on to the water, instead of cutting through it, losing grip – where it was in a class of its own.
Pirelli P Zero
Price: £122
Contact: 01283 525252, www.pirelli.com
A former winner in this size, the long-running P Zero pattern can still show many more modern competitors the way. It makes its way into our top three thanks to an excellent performance in the wet tests, comfortably winning the braking and handling disciplines and finishing in the top four in the other categories. It was a fraction behind the best in the dry, but it had already done more than enough to earn our commendation.
Tyres Q and A
Should I change my tyres with the tread at 3mm? The legal limit is 1.6mm, but some tyre manufacturers say wet road grip drops off dramatically below 3mm – and our tests have confirmed that this is the case. In the wet, tread works by shifting water from under the tyre; shallower grooves mean less water is expelled, which makes your car more prone to losing grip and aquaplaning.
What difference will the new tyre labels make? Makers are rushing to meet the legislation, which comes into force in November. The labels will essentially make purchasing tyres like buying a fridge or dishwasher – you'll see an at-a-glance sticker with a rating for noise, wet grip and fuel economy. But our tests are still a must-read, as they factor in other essentials including dry handling, aquaplaning and rolling resistance.