Product of the Year: PURE Highway 300Di
Clever add-on is a breakthrough for in-car digital radio, making it a realistic proposition at a great-value price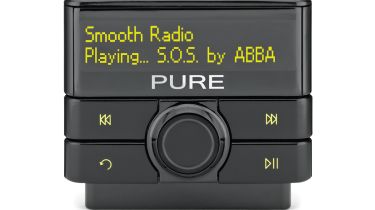 Price: £179.99
Contact: 0845 148 9001, www.pure.com
Take-up of DAB digital radio in cars has been slow so far, but as an FM switch-off is likely in the next few years, drivers need a cost-effective solution – and our Product of the Year is just that.
The Highway 300Di is the latest offering from DAB pioneer Pure, and allows motorists to get digital stations in cars with only FM tuners.
It comprises a neat interface, which is hidden behind the dash or under a seat. This connects to the standard sound system and hooks up to an amplified, screen-mounted external aerial and a smart controller fitted within the driver's reach on the dash.
The system provides DAB through the factory-fitted stereo, plus allows drivers to revert to FM stations. And that's not all: the Highway 300Di also lets motorists listen to their favourite sounds in-car, as there is an auxiliary socket for MP3 players, plus a USB outlet that plays music from memory sticks. Owners can charge their Apple iPod, iPhone or iPad while it's playing, and have full control via the small Pure display.
So the 300Di offers everything you could want to bring your car bang up to date – and all for under £200. It had to be our Product of the Year.
DAB Q and A
Which manufacturers offer DAB digital radio as standard in their new cars? Which sell it as an option, and which don't have it at all? There are 12 marques which don't offer DAB at all: they are Alfa Romeo, Citroen, Chrysler, Fiat, Honda, Hyundai, Jeep, Kia, Nissan, Peugeot, Renault and Skoda. MINI is the only brand to include digital radio as standard across its range.
Most other manufacturers provide it as a cost option (prices range from £160 to around £850), although many models have it as standard.
Here's the full list:
Audi DAB is not available on the A3, R8 or TT, but is included as standard on some versions of the A4, A5, A7 and A8. It's a cost extra on all other models.
BMW Standard on 7 Series and M5; cost option on all models.
Ford Not available on Ka; standard on C-MAX and Grand C-MAX, as well as Titanium and Titanium X versions of other Ford models. Cost option on other trims.
Jaguar Standard on XF; cost option on XJ and XK models.
Land Rover Not available on the Defender, but standard on all other models except for the Freelander GS – where it's offered as a cost option.
Mercedes Standard on C-Class, SLK, CLS and S-Class, plus SLS AMG, E63 AMG and CL65 AMG. Not available on G-Wagen or any Smart models.
SEAT Standard on Alhambra SE Lux, plus Leon SE Copa, FR+ and Cupra R; cost option on other models.
Toyota/Lexus Standard on Toyota Land Cruiser and Lexus LS 600h; cost option on all other Toyota models.
Vauxhall Standard on Meriva SE, Astra SE Tech and Astra GTC and Zafira Tourer, plus SE, SE Nav, Elite and Elite Nav versions of the Insignia.
Volvo Standard on XC60 Premium, but a cost option on all other models.
Volkswagen Not available for up! or S and S a/c versions of Polo; standard on Golf Match and Match BlueMotion, plus Passat SE Sport, and all Sharans, Tiguans and Touaregs. Cost option on other VWs.