The best winter tyre
Which are better: winter or all-season tyres? Our test of 10 covered both as we picked out four of the leading choices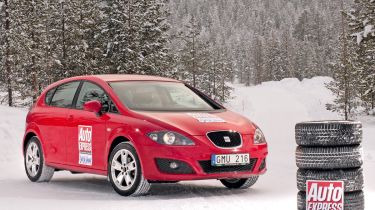 The safety case for fitting winter tyres for use in snowy and cold conditions is compelling – and is made even stronger every year by the UK's increasingly unpredictable weather. With 'tyre hotels' now established to store your unused tyres, there's even less reason not to make the switch for the seasons.
To find our winter and all-season picks in the big-selling 225/45R17 size, we assessed the rubber on snow in frozen Sweden, before heading to Germany for wet and dry tests at around five degrees Celsius. As with our summer tyre test, price had a minor influence on the result.
Winner: Continental ContiWinterContact TS 830 P
Price: £165
Contact: 01595 425900, www.continental-tyres.co.uk
Yet another success for a tyre that did well in just about every assessment and type of condition. The Goodyear UltraGrip might have topped the ContiWinterContact on snow, but the margin was small and quickly overcome in the cold, wet and dry tests in Germany. A series of podium finishes at low temperatures secured a narrow victory for the TS 830 P. In summing up, it's a great all-round performer which showed no weaknesses whatsoever.
Commended...
Goodyear UltraGrip Performance 2
Price: £176
Contact: 0121 306 6000, www.goodyear.co.uk
For the ultimate performance on the white stuff look no further than this. In the four snow tests – braking, handling, traction and slalom – UltraGrip didn't drop out of the top two. It was by no means disgraced on the wet and dry tracks, either, but it couldn't quite match the handling lap times of some rivals and had to give best to the Continental. Still, a great choice for winter driving.
Hankook Optimo 4S
Price: £133
Contact: 01327 304100, www.hankooktire.co.uk
For many drivers, an all-season tyre makes total sense, as there's no messing around with changing or storing tyres. This Optimo is our pick of the year-round buys. It trailed the specialist winter tyres on snow, but the results were close and it was a long way ahead of the summer tyre we compared it to, with about four times the grip. In the dry and wet tests the Optimo made a good case for fitting all-season tyres, beating most of the winter ones.
Vredestein Quatrac 3
Price: £140
Contact: 01933 677770, www.vredestein.com
As with the Hankook this is an all-season tyre, and it provides a good alternative to the Optimo as it boasts different strengths. It just had the edge in the four snow tests and took a very narrow victory on the handling track in a field which was closed up by the fact out test car had electronic stability control. The Vredestein was best in our dry handling and braking tests, too. It was less effective in the wet, which handed the all-season win to Hankook.