Dunlop SP Sport Maxx RT2 review
New contender performs well on wet and dry roads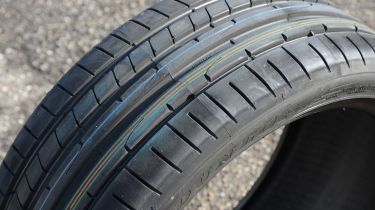 New contender performs well on wet and dry roads
There was precious little to split the Dunlop SP Sport Maxx RT2 and Goodyear's Eagle F1 Asymmetric 3, but the former just nudged ahead. We hadn't sampled the Dunlop's RT predecessor much, but the newcomer is up there with the best.
The two tyres arrived at their finishing positions in very different ways. As Dunlop is a competition-focused brand, the RT2 had the edge in the dry. It finished second in braking, and even though that was a fair way behind the pace-setting Michelin, it was still at the head of a very congested pack.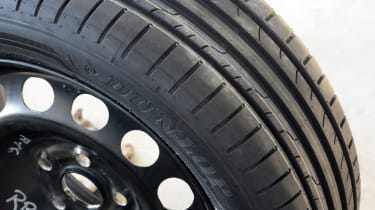 It was a touch ahead of the Asymmetric 3 around the handling track, but it had the same softness and couldn't keep up with the Continental front-runner. The Goodyear had the advantage in shallow water, where the Dunlop struggled for front grip around the rollercoaster handling track. The RT2 needed a fair bit of lock and finished a second or so off the pace.
In the deeper water of the aquaplaning test, the Dunlop was the best in the business, winning our curved assessment by a clear margin. It finished third in the straight assessment, just pipping the Pirelli yet with plenty of daylight between it and the rest. At the pumps, it was competitive, but not as impressive as the Goodyear or as good as we have seen from other Dunlop designs.
Buy the Dunlop SP Sport Maxx RT2 from Black Circles
| | | |
| --- | --- | --- |
| Price | £94.50 | |
| Dry handling | 98.80% | 7th |
| Dry braking | 98.40% | 2nd |
| Wet handling | 97.60% | 8th |
| Wet braking | 90.80% | 7th |
| Wet cornering | 97.90% | 4th |
| Straight aqua | 98.90% | 3rd |
| Curved aqua | 100% | 1st |
| Rolling resistance | 96.70% | 5th |
| Cabin noise | 98.00% | =8th |
| Overall | 98.70% | 4th |