Stellantis kills Alfa Romeo's 'Giorgio' platform for ICE cars
The chassis was never designed for electrification, so Alfa's future now rests on the Group's upcoming STLA electrified underpinnings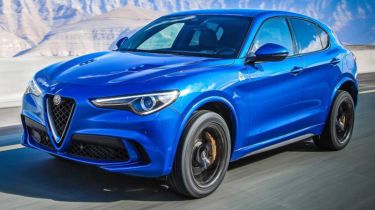 Alfa Romeo has confirmed it will soon axe the rear-wheel drive Giorgio platform, which the brand's Giulia saloon and Stelvio SUV models are based on.
Now, as part of the Stellantis Group of brand's, most of the Italian manufacturer's future models will move onto the Stellantis Group's electrictrified STLA Large plaform, which will be capable of travelling up to 497 miles on a single charge.
Alfa Romeo's CEO, Jean-Phillppe Imparato, confirmed: "We are working on the large platform of Stellantis and we will no longer use the Giorgio.
"We must take advantage of the volumes to take all possible opportunities and bring an EV range to Alfa Romeo, but always with the touch of Alfa Romeo."
Stellantis won't completely abandon the Giorgio underpinnings, though. A modified version of the chassis will be integrated into the Group's new four-pronged platform structure, appearing under a few of the company's larger next-generation vehicles.
For example, Auto Express understands that the Porsche Macan-rivalling Maserati Grecale will be based on this platform. However, it'll probably be powered by a detuned version of the twin-turbocharged 3.0-litre V6 engine found in the MC20 supercar.
The Giorgio platform was a multi-billion euro project, designed to give Alfa Romeo a range of vehicles that could rival BMW for handling and performance. However, during its relatively short life, the underpinnings were only used on two Alfa Romeo models: the Giulia and the Stelvio.
It was destined for much more, though. Fiat Chrysler Automobiles (which became part of Stellantis earlier this year) recognised that Alfa Romeo would struggle to recoup the development costs on its own, so it planned for 15 models across its line-up to use the platform, including some Jeeps and a new Alfa Romeo GTV, which would have been fitted with the same 503bhp 2.9-litre V6 as the Giulia Quadrifolgio super saloon.
The platform's death can be attributed, at least in part, to looming emissions regulations. The Giorgio architecture was never designed to support electrification, so would require an unwarranted level of investment to bring it up to date with current government legislation, which bans the sale of pure-combustion engines from 2030.
Alfa's upcoming Tonale crossover has also been delayed by a further 12 weeks, with reports suggesting Imparto wasn't satisfied with the performance of the car's plug-in hybrid powertrain. The compact premium SUV to rival the likes of the BMW X1 is now expected to go on sale in early 2022.
There are also rumours that Alfa Romeo will help bring back Lancia from the brink. Automotive News Europe has previously reported that the two brands could soon work together with luxury French manufacturer DS (also part of the Stellantis Group) to develop its next-generation models, with Lancia taking a step upmarket in the process.
Now read all the latest news about Alfa Romeo's upcoming baby SUV here…