"Maybe this is the time for Alfa Romeo to really shine"
Editor-in-chief Steve Fowler thinks Alfa Romeo is in good hands with former Peugeot boss Jean-Philippe Imparato at the helm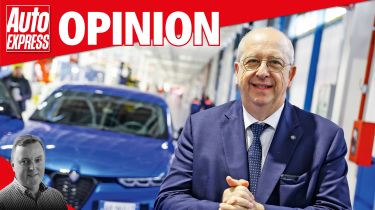 "We'll admit we've had false dawns in the past, but...". Similar words have been uttered frequently by senior folk in the car business, usually about companies at the start of another false dawn.
Alfa Romeo is one brand that has always promised, but never really delivered. Plenty of products have shown signs of brilliance that win life-long fans, but to be really successful you need to be able to sell to the car-buying majority not the faithful minority – or the curious.
Stellantis has a number of brands that show promise, Alfa being one (DS and Maserati the others). Yet in my near-30 years writing about cars, there have been numerous 'this is it' moments, but I can't remember any Alfa being the complete package; beautiful (always), great to drive (usually), well made (er...).
Stellantis boss Carlos Tavares has put one of his most trusted lieutenants in charge of Alfa: Jean-Philippe Imparato. He worked wonders at Peugeot, particularly on his specialism: quality. He has given the French brand a combination of style and craftsmanship that rivals the best mainstream makers and has won favour with buyers.
Now it's time to turn that obsession with quality towards Alfa Romeo. Being a Frenchman in charge of this most Italian car company is another challenge, but Imparato's knack of expressing his vision and passion for his products makes him a leader you want to follow.
This week, our man John McIlroy caught up with Imparato at the factory building the Alfa Tonale, a car that would already be on sale if it hadn't been for Imparato making changes to the car's – you guessed it – quality.
Imparato is always a good interview; candid and forthright. He knows what's wrong with Alfa, and what it needs to turn its long-held promise into reality.
Our man McIlroy can be tough to impress, but he came away liking what he saw with the Tonale. Maybe this is the time for Alfa Romeo to really shine.
Click here for our review of the new Alfa Romeo Giulia Estrema...