Aston Martin sales down by 32 per cent in 2020 due to Covid-19
Aston Martin records sales drop in-line with predictions, but the DBX SUV lead a sales resurgence in Q4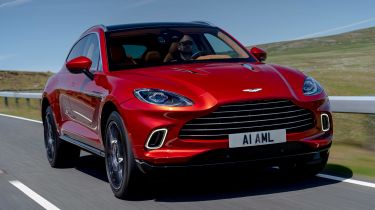 Aston Martin sales dropped by almost a third in 2020 due to the Covid-19 pandemic, but the British luxury brand says that its new DBX SUV performed strongly in the final quarter of last year, leading a sales resurgence.
Aston sold 4,150 vehicles last year, down 32 per cent on 2019 figures, but with the DBX on sale for its first full quarter the model showed strong progress towards the end of last year - 1,171 DBXs were delivered to customers and dealers in Q4. Sales of Aston's exclusive special models increased to 32 units in Q4, up from 10 in the previous quarter. 
The firm's annual revenue dropped to £611.8 million in 2020, down from £980.5 million the year before, with Aston recording an annual operating loss of £323 million. This was due to a number of factors, including a programme to reduce dealer stock levels to redress the balance between supply and demand, something Aston Martin CEO Tobias Moers says that the company is close to completing ahead of its projections.
Stock of its GT and sports car models declined by 1,580 units as Aston moves towards a build-to-order model, with the introduction of a new DBX derivative planned in Q3 this year.
The £323 million loss also includes £98 million worth of "adjusting operating items" according to the brand's statement, as well as investment committed to research and development, and new technologies as part of Aston's 'Project Horizon' transformation business plan "to drive growth, agility and efficiency," according to Moers.
"It is related to every corner of the company … We've come to a new way of how we manufacture and assemble the cars. It's fast how we've turned around that assembly and production facilities. It's really coming together."
Last year Mercedes upped its stake in Aston Martin to 20 per cent, giving the British firm access to all Mercedes-AMG's V8 powertrain derivatives, as well as plug-in hybrid and fully electric technologies and platforms.
Aston also recently brought in new members of the management team to facilitate its business plan goals, while a refinancing initiative has supported this with the brand ending 2020 with £489 million in cash on its balance sheet (up from £108 million in December 2019). 
The brand is aiming to integrate much of the new technology that the deal with Mercedes gives it access to by 2023, with electrified or fully electric models for all of its products by 2024. As a result, battery-electric models will make up more than 90 per cent of Aston Martin's model line-up by 2030.
Now read all the latest news on the Aston Martin DBX SUV. Let us know your thoughts in the comments section below…