Aston Martin plots new limited-run supercar for 2023
As part of the brand's 110th anniversary celebrations, Aston Martin will unveil an exclusive new model later this year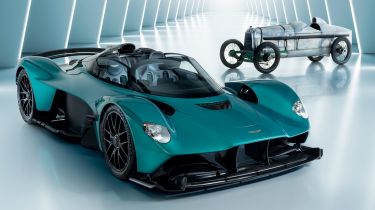 This year marks the 110th anniversary of Aston Martin, and the firm will be honouring the landmark with a presence at numerous automotive events throughout the year. Crowning the celebrations will be a new, limited-run model that'll break cover later in 2023. 
Aston Martin is remaining tight-lipped on how the new car will be positioned, but given the company's recent form, it could be a product of its specialist Q division. The Aston Martin Victor - derived from the One-77 and Vulcan hypercars - is an example of what's possible in this regard, with an entirely bespoke bodyshell, a unique interior and modified mechanicals.
However, given that the brand describes it as a limited run model, and cars like the Victor tend to be one-off customer commissions, the newcomer may bear a closer resemblance to one of Aston Martin's series production cars.
As such, it could be a limited edition model in a similar mould to the V12 Speedster - the roofless, £765,000 two-seater inspired by the DBR1 race car. Just 88 examples of the Vatange-based special were produced, which also borrowed hardware from the DB11 and DBS Superleggera. Aston's celebratory model would be more likely to draw from the latter. 
The new offering will form part of Aston Martin's renaissance in the coming years, with updated versions of the DBS, DB11 and Vantage due in 2023 and the radical Valhalla thoroughbred hitting the road early next year. Given that the Valhalla - the first of the brand's new-age mid-engined models - is arriving in 2024, the bespoke special is unlikely to be a derivative of this. 
The project is also described as a new car, which rules out a classic revival model similar to the track-only DB4 G.T. continuation. Whatever the case, expect the anniversary model to appear at numerous events later this year - including the British Grand Prix, Pebble Beach and Goodwood Festival of Speed - where Aston Martin will celebrate its 110th year as a manufacturer. 
Click here for our list of the best supercars on sale right now...