Aston Martin DP-100 Gran Turismo racer shown at Goodwood
Aston Martin has unveiled it's digital racer, the DP-100, at the Goodwood Festival of Speed
Aston Martin has revealed its DP-100 Gran Turismo racer at the Goodwood Festival of Speed. Available to download for in-game play on GranTurismo 6 from July, the concept will remain a virtual-only GT racer.
Developed in house by the design team at Aston and led by Design Director Marek Reichman, the DP-100 took six months to create using the same techniques used to pen production models. Digitally powering the car is a mid-mounted twin turbo V12 engine, developing 800bhp.
The DP-100 sits low to the ground, with the roof almost sitting level with the bulging arches. At the rear, there's a hint of Aston's road car styling in the rear lamp cluster, which rests above an enormous rear diffuser.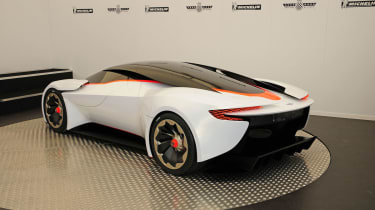 "Features such as the car's revolutionary 'active aerodynamics' are there not just as a way of enhancing form, but also to support the car's function in-game," said Design Director Marek Reichman. ""As with the CC100 Speedster Concept, many of the design cues visible in DP-100, such as the light blade rear lamps, could also feed through into future sports cars that we'll launch in the offline world so the importance of this project should not be underestimated."
The latest digital concept isn't the first time Aston has teamed up with the Gran Tursimo franchise. The DB7 Coupe and Volante debuted in the very first edition of the game, with the £1.2 million One-77 already available in GT6.