Nissan's Andy Palmer is new Aston Martin CEO
Andy Palmer leaves Nissan to take over as CEO of Aston Martin with Philippe Klein taking his role at Nissan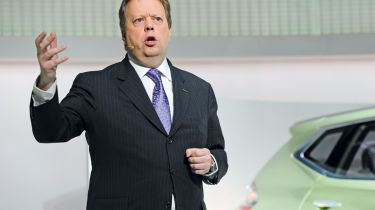 Andy Palmer, Nissan executive vice president and number one in our Brit List 2012, has left Nissan to become the new CEO of Aston Martin.
Nissan has released a statement saying that Palmer's replacement from September 15 will be Philippe Klein, who joins from Renault where he was an executive vice president.
It's unclear when Palmer will start at Aston Martin but the recruitment process has clearly been a long one, with former CEO Ulrich Bez standing down late last year.
Palmer will have to continue to try to make up the ground that lies between Aston Martin and other sports car manufacturers like Bentley, whose sales continue to go from strength-to-strength.
With ownership of the brand split among Investindustrial, Investment Dar and –more recently – a 5 per cent stake belonging to Daimler, Palmer will be helping develop the business while keeping all of Aston's investors happy.
Surely helping the process is the tie-up between Aston Martin and Daimler that will see engines and electrical equipment split between the two brands – not too dissimilar to the experience that Palmer had with the Renault-Nissan alliance.
As for Aston's future plans, there's a question mark over the SUV project, but there's an all-new architecture for its sports cars under development that will debut with a DB9 replacement in late 2016. Power could come from AMG's new 4.0-litre V8 turbocharged engine.
Aston's Chief Financial Officer, Hanno Kirner confirmed that Aston "will, in the next few years, be implementing the biggest investment programme in our 101-year history, preparing the ground for new and exciting products in the future."