McLaren 570S - best performance cars
All the driving thrills you'd expect - the McLaren 570S is an amazingly capable supercar.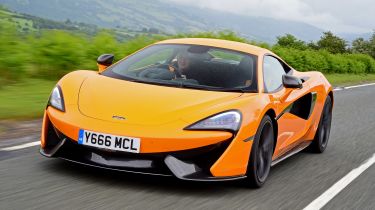 The 570S sits in McLaren's more 'affordable' Sports Series range, offering supercar good looks and performance with a touch of everyday usability.
McLaren's most popular model is priced at around £150,000, and has a 562bhp twin-turbo V8 engine offering enough pace for even the keenest driver. It may not have the addictive soundtrack of its Italian rivals, but you'll hardly notice when dispatching 0-62mph in an eye-watering 3.1 seconds and racing on to a top speed of 204mph.
The steering is where the 570S really shines though, with exquisite weighting, pin-sharp responses and huge amounts of steering feel. You can have confidence in placing the nose with accuracy, and the 570S will just go where you point it without losing traction. The Sport and Track drive mode settings firm up the suspension and add even shaper throttle response.
The handling and ride is a notch above its rivals, while the dynamic mastery of the 570S is really apparent over patchy UK roads. McLaren has produced a real gem, and it's one you should check out before jumping into an Audi R8 or Lamborghini Huracan.
Top 10 best performance cars 2021